Working Out The Kinks In First Morning Practice
4 min read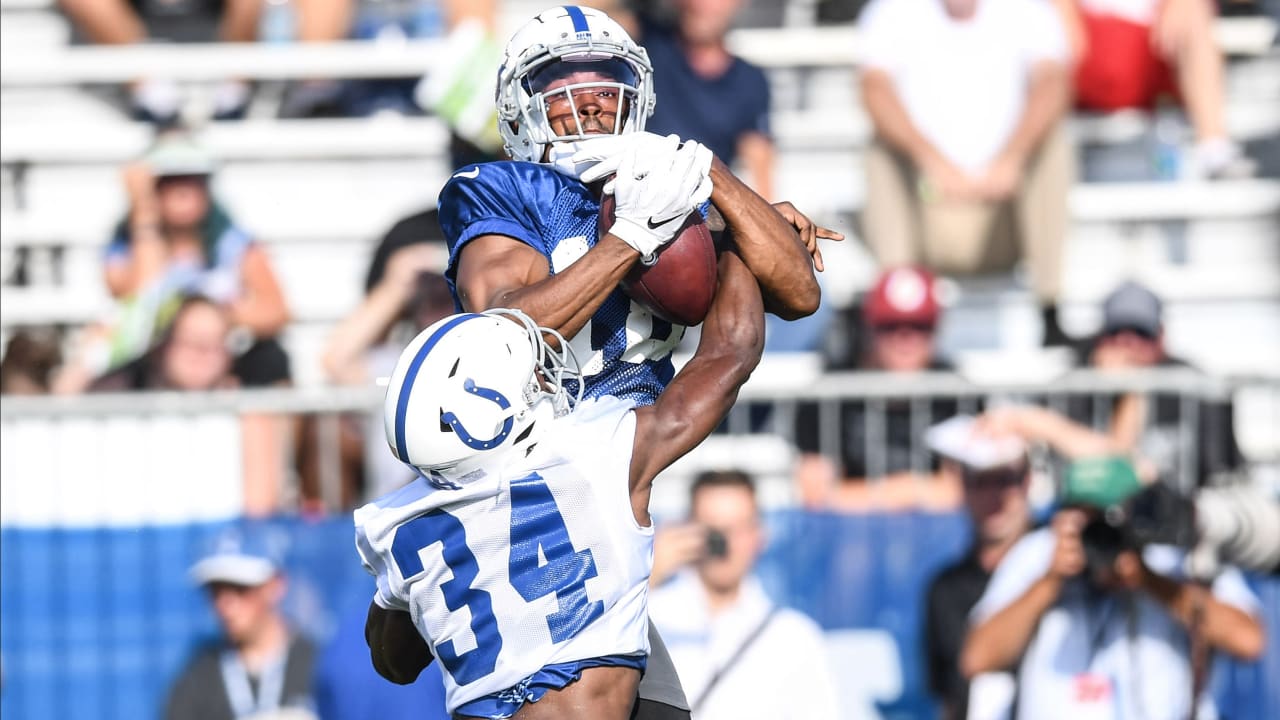 — Tuesday's practice featured a heavy dose of inside-out routes in the passing game, which indicated an effort by the quarterbacks to get rid of the ball quickly off the snap. The offense had quite a bit of success with this approach. First, quarterback Jacoby Brissett, on 3rd and 6, found Chester Rogers near the right sideline, getting about 10-12 yards. Then, on the very next play, Brissett found tight end Jack Doyle at the exact same spot. The play that followed was a drag route to T.Y. Hilton, who took advantage of the defense clearing out around the area — possibly because of the previous two plays — to get some nice yards after the catch.
— The offensive line had its usual lineup today: left tackle Anthony Castonzo, left guard Quenton Nelson, center Ryan Kelly, right guard Mark Glowinski and right tackle Braden Smith. The Colts opened up 11-on-11s with a three-receiver set featuring Hilton (left) and Devin Funchess (right) lined up out wide, and Chester Rogers in the slot. Jack Doyle was the lone tight end, and Marlon Mack was the running back lined up behind Brissett.
— Running back Nyheim Hines and tight end Eric Ebron were also used in rotation in the first few plays.
— Quarterbacks Phillip Walker and Chad Kelly once again split the second- and third-team reps on Tuesday. Each had at least a couple big-time throws on the day, too. Kelly threw a dime on a crossing route to wide receiver Steve Ishmael in the middle of the field for a moderate gain; Ishmael, who jumped up to snag the pass, maintained possession after hitting the ground. Walker, meanwhile, found Zach Pascal for a 38-yard touchdown, putting the ball right where it needed to be over the top on the streak route to the end zone.
— Kelly and Daurice Fountain hooked up for a slick-looking play, as the second-year receiver ran an out route against cornerback Chris Milton and Kelly delivered a perfect pass to the left sideline, where Fountain made the catch and demonstrated some nice "toe drag swag" to earn the completion before heading out of bounds. Tight end Mo Alie-Cox also earns some props on this play, as he came out of his stance to chip block defensive end Carroll Phillips to give Kelly just enough extra time to get the throw off.
— The second-team offensive line on Tuesday included Antonio Garcia (left tackle), Jake Eldrenkamp (left guard), Josh Andrews (center), Joe Haeg (right guard) and Le'Raven Clark (right tackle). The third-team line consisted of J'Marcus Webb (left tackle), Daniel Munyer (left guard), Evan Boehm (center), William Poehls (right guard) and Jackson Barton (right tackle).
— Pre-snap penalties were an issue for the Colts' offense throughout Tuesday's practice. At one point, Garcia was temporarily replaced by Webb as the second-team left tackle after a false start penalty.
— The Colts broke out some RPO work once they started a late red zone drill. Starting from the defense's 18-yard line, Brissett faked a handoff and found Ebron in a wide open seam around the five-yard line. It would've been a battle to the end zone from there in a real game, but these plays are designed to get you a little more room where the field actually shrinks.
— The second and third teams found success running the ball once they faced a 3rd and Goal from the 5-yard line. Walker handed off to Nyheim Hines, who used his speed to beat the defense to the right edge and sneak into the front of the end zone. On the very next play, also a 3rd and 5 scenario, running back Jonathan Williams appeared as if he was running the exact same way, but then cut inside to take advantage of the over-pursuing defenders and easily get into the end zone.
— Those who think T.Y. Hilton is just going to take it easy in his eighth NFL season are sorely mistaken. First, there's Hilton the leader: he pulled Rogers off to the side at one point Tuesday and helped him nail down his footwork on particular technique. Then there's Hilton the worker: Hilton was doing an individual drill off to the side in which one coach (in this instance, offensive quality control coach Gunnard Twyner) used a towel to hold one of Hilton's arms back while another coach (Kevin Patullo) threw him a pass that he had to catch with both hands. This helps train your body to get used to physical corners who are known to get away with holding an arm down as the play is developing.
(via Andrew Walker/Colts.com)
https://www.colts.com/news/2019-coltscamp-notebook-day-5-working-out-the-kinks-in-first-morning-practice