Wilf Family Putting Extra Emphasis on Connecting…
2 min read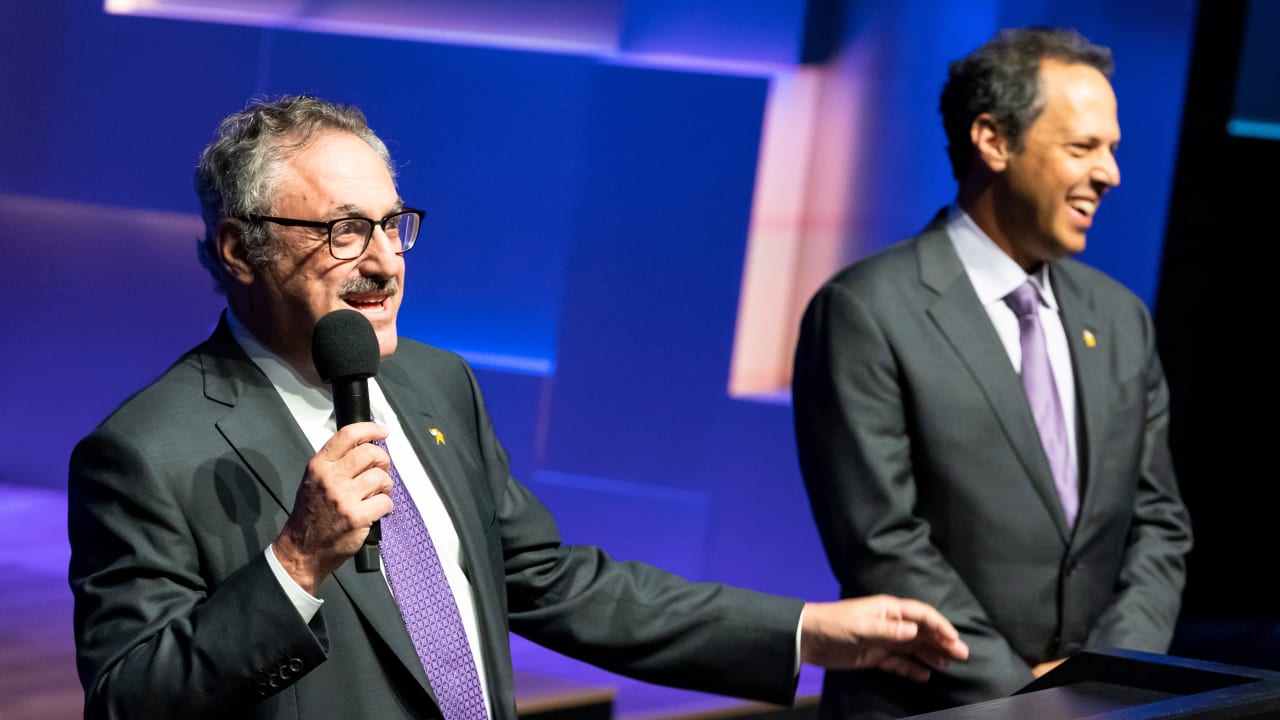 The walls of Twin Cities Orthopedics Performance Center are steeped in history.
Whether it's a section dedicated to Hall of Famers who wore Purple, banners displaying the members of the Vikings Ring of Honor, a team photo from every season in franchise history, or the in-lobby listing of every player who has been active for a game, it's clear that the Vikings value players of the past.
Mark Craig of the Star Tribune recently wrote about Minnesota's dedication to its alumni, an initiative that starts at the top with Owner/Chairman Zygi Wilf and Owner/President Mark Wilf.
Craig noted how the Wilf family has stepped up its efforts to make alumni players feel more welcome since purchasing the club in 2005.
The Vikings send alumni a quarterly newsletter. They give every alumnus a lifetime pass to the Vikings Museum. They coordinate more than 300 alumni community visits per year.
They also involve the alumni in training camp events, the holiday party, the draft party, the Taste of the NFL and other special events like last year's curling tournament.
"We really want to make an effort to be top in the league in alumni relations," Mark Wilf said. "We're competitive in that area as well."
Besides the Ring of Honor, the Vikings hosted a record 124 alumni during their Legends Weekend in Week [3].
"I hadn't been back in 20 years," said former receiver Bob Grim, one of 21 alumni who attended an event celebrating the 50th anniversary of the 1969 team. "The Wilfs have done a great job re-energizing the history of the franchise."
Zygi Wilf told Craig that the family's appreciation for the alumni stems back to their own experience as football fans growing up on the East Coast.
Zygi Wilf still has a white football signed by every member of a Giants team from the 1960s sitting on his desk. He got the autographs working the locker room as the son of a man who built homes for the players.
"The fan in you stays in you," Zygi said. "We've been fans for so long. One of our cornerstones is the passion we have for tradition. There's nothing more traditional than being able to honor and respect the players who made the NFL as big as it has become."
Or, as Mark adds, "They built what we've got here, so we've got to honor that. It's putting resources into it, but it's also an attitude that we want them to know we've got their back."
https://www.vikings.com/news/lunchbreak-wilf-family-putting-extra-emphasis-on-connecting-with-vikings-alumni