Wide Receivers Continue Fierce Back-And-Forth…
4 min read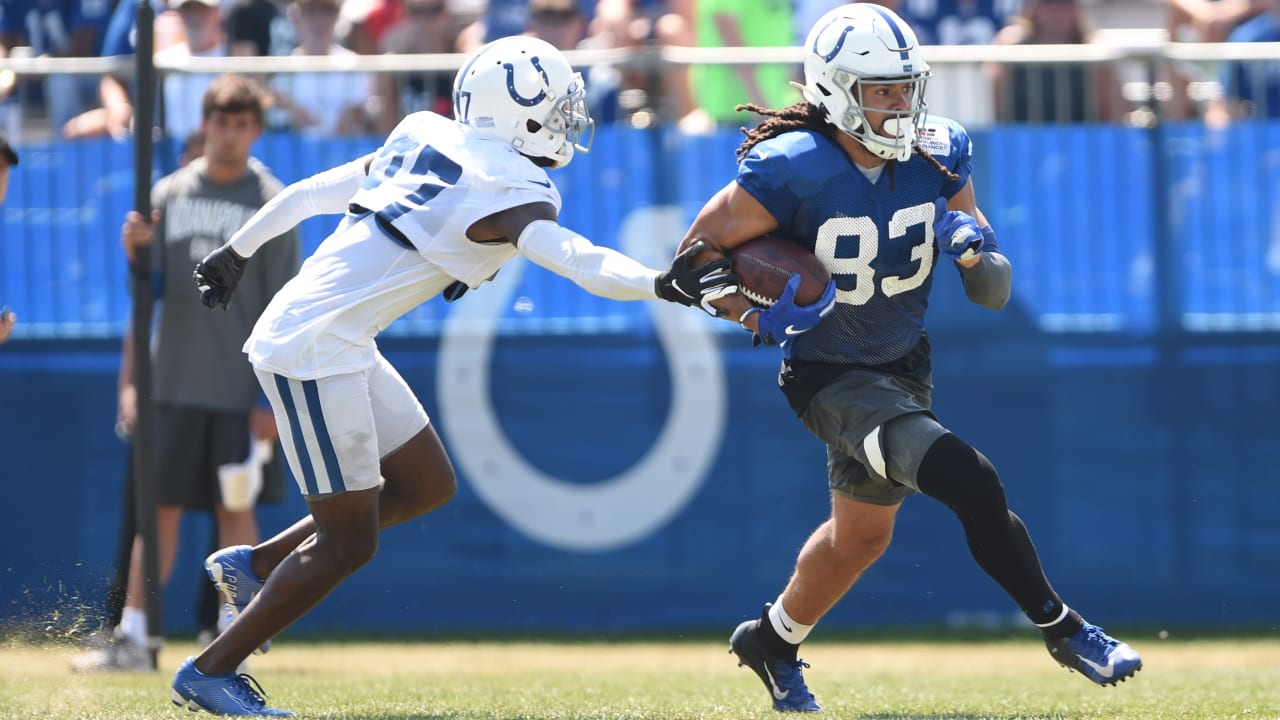 — Offensive linemen Anthony Castonzo and Braden Smith were back in the lineup today after missing Day 7 on Thursday, but Ryan Kelly was not, which meant obvious adjustments in the lineup. Here was today's first-team line: Anthony Castonzo (left tackle), Quenton Nelson (left guard), Josh Andrews (center), Mark Glowinski (right guard) and Braden Smith (right tackle).
— Seeing some first-team reps at the skill positions were Jacoby Brissett at quarterback, Marlon Mack and Nyheim Hines at running back, T.Y. Hilton, Devin Funchess, Chester Rogers, Zach Pascal and Marcus Johnson at receiver, and Eric Ebron and Mo Alie-Cox at tight end.
— The second unit was Le'Raven Clark (left tackle), Evan Boehm (left guard), Jake Eldrenkamp (center), Joe Haeg (right guard) and Jackson Barton (right tackle). We also saw J'Marcus Webb get some reps with the second unit at left tackle.
— The third unit line was Antonio Garcia (left tackle), Daniel Munyer (left guard), Eldrenkamp (center), Ian Silberman (right guard) and Barton (right tackle). Webb also got reps with the third unit at right tackle.
— A good portion of the first 11-on-11 session was devoted to the hurry-up offense, which we also saw on Thursday. Quarterback Jacoby Brissett quickly got in a groove by relying on his tight ends right away. He hit Ebron on a wide-open pass to the left side first, which went for roughly 10 yards. Brissett then rolled out to his right to find Alie-Cox for a modest gain. Brissett then drew the right side of the defensive line offsides a few plays later using a hard count.
— It was another solid day for a trio of young receivers in Deon Cain, Daurice Fountain and Krishawn Hogan. All three made a handful of catches throughout the day for the second and third units, several of which were more difficult to come down with. Cain has made some flash plays most days he's been able to participate in practice, and Fountain and Hogan are especially coming on more so in the last few practices.
— Today had its share of impressive plays. Early in 11-on-11s in a late-developing play, Brissett found Mack for about 10-15 yards cutting inside off the right seam on what appeared to be an angle route (fake the route outside, cut inside) for Mack. Guys like Mack and Hines can really exploit defenses with this route.
— In 11-on-11s, quarterback Phillip Walker quickly hit Pascal on a flare route on the left side, and a convoy developed in front of Pascal that might have allowed him to get about 15 to 20 yards downfield.
— Sometimes when plays break down, big things can happen. During one of the 11-on-11 sessions, Walker scrambled around to buy time while keeping his eyes downfield as he suddenly whipped the ball across his body and hit Johnson downfield for about a 55-yard touchdown.
— For the third practice in a row, Pascal has come down with a long-distance score. Saturday during 7-on-7s, Brissett found him wide open down the right side for a 50-yard touchdown. Pascal was mostly a possession receiver in 2018, but he's clearly showing off his downfield prowess this summer.
— Jordan Wilkins returned today after missing the last couple of practices and picked up right where he left off. He displayed an uncanny ability to earn yards inside the tackles using his shiftiness and vision.
— The Colts ended practice with some 11-on-11 drills backed up onto the defense's two-yard line. This could have been short-yardage, goal-line work, but it may have also been practicing two-point attempts. The offense cashed in a couple of times, with Brissett first drilling Ebron low where only the tight end could get it, and then running back Jonathan Williams maneuvering his way into the end zone.
— Before team drills got underway, quarterbacks and centers paired off with Jacoby Brissett taking snaps from Joh Andrews, Phillip Walker taking snaps from Jake Eldrenkamp and Chad Kelly taking snaps from Joe Haeg.
— At the beginning of practice in positional drills, the wide receivers did a drill where they were thrown a high pass, and they had to extend/leap for it while wide receivers coach Kevin Patullo and offensive quality control coach Gunnard Twyner wore long pads on their arms and tried to make the completion tougher on the receivers. Naturally, the 6-foot-4 Devin Funchess took to this exercise seamlessly.
— Always stressing the importance of ball security, running backs coach Tom Rathman could be heard instructing the tailbacks, "Pad level low, wrist high!" In keeping their pad level low, it makes it tougher for defenders to not only tackle running backs, but it's also more difficult to affect their grasp on the ball. The runner's wrist being positioned high also forms a stronger hold on the ball.
(via Jake Arthur/Colts.com)
https://www.colts.com/news/2019-coltscamp-notebook-day-8-wide-receivers-continue-fierce-back-and-forth-batt