What's Next In Andrew Luck's Calf Recovery?
3 min read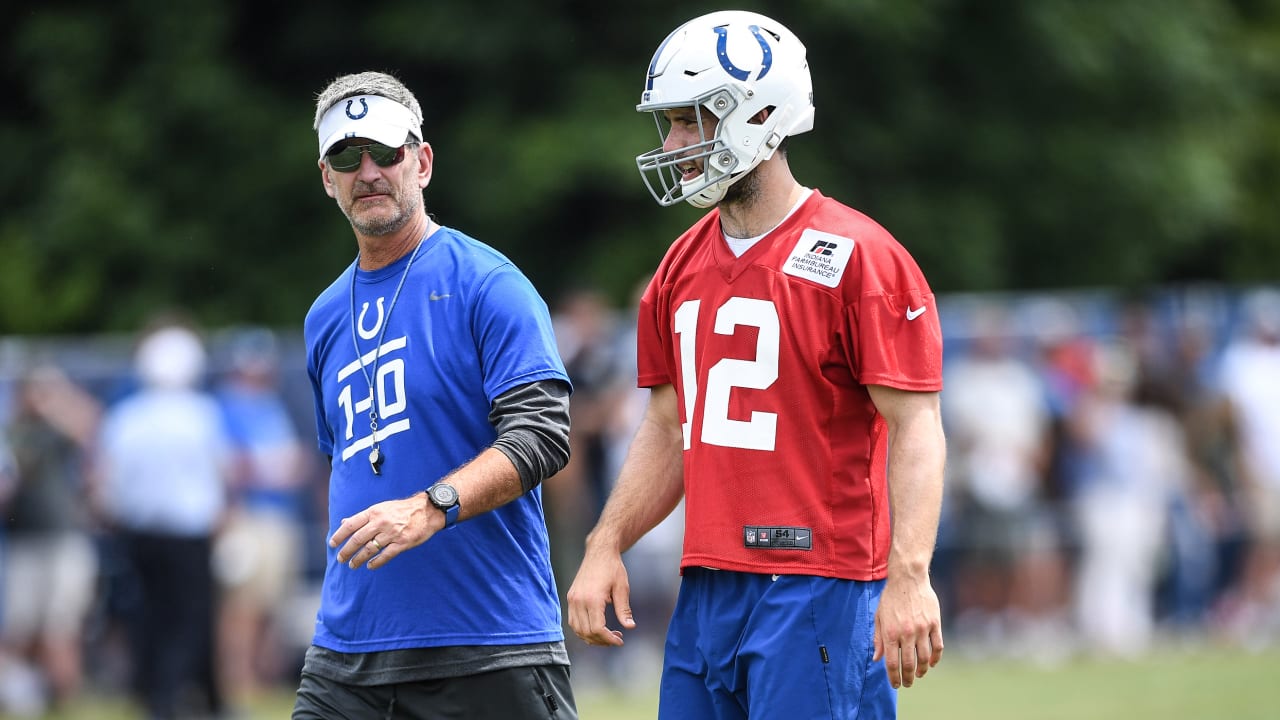 Luck wouldn't go as far as to consider his recent experience a "setback" — "I like to view it (as) 'not where I want to be,' he said — but he wants to be sure he's figures out a method that works best to get his calf good to go by the start of the regular season.
And while preseason reps would be ideal — Reich said Monday Luck was already going to be held out of the first preseason game against the Bills prior to this calf injury; he also wasn't going to play in the fourth preseason game against the Cincinnati Bengals — the primary goal is to put this behind him ASAP.
"This is not a, 'Oh, we need to maintain this. This is going to be around (scenario).' That's not my mindset," Luck said. "I'm working on resolving this issue. That is priority one."
For now, Luck is considering the team's walkthroughs as his "practices." He said he even warned his teammates that he "might be a little more intense" during walkthroughs, even though he's currently throwing from a stationary position.
The good news? Luck says tests show no need for surgery, while his calf injury has not put his Achilles tendon at risk of tearing or swelling. Like with many muscle strains, however, it oftentimes involves a simple waiting game — and lots of rest and rehab work.
One thing's for sure: Luck has learned his lesson from the shoulder injury that ended up costing him the entire 2017 season. He admitted the pressure of getting back on the field for his team led to him pushing himself too hard; this impeded the recovery process and the quarterback was eventually shut down for the rest of the year.
This time around, Luck is going to listen to his body and get back in the fold when he's ready.
"We are all working on resolving this so it's not a lingering issue," Luck said."I could not live with myself if we got to a point in the season and say, 'Hey, I could've done this to take care of this issue, but I didn't because of X-Y-Z, whatever that is.' I'm not going to allow that to happen.
"I still have some emotional scars from that (shoulder injury) and that lives with me still, but I'm trying to use it in a positive way certainly for myself."
For now, every day, Luck said, "is a test, is a reassessment."
"I believe very much in the training that I do and the help that I have received starting with my shoulder when I had to miss the 2017 season," he said. "I believe in that process. I believe in the people. I believe in myself in that process. That is sort of I guess the magic, if you will. So every day is a test reassessment. Every day we say, 'Hey did we improve? Did we not?' If I am not making progress then you have to change things. That is what I learned.
"That is the goal – being ready for game one, being ready for a preseason game, being my best," he continued. "It is just a consequence of doing the right things and seeing results. If we are not seeing results, 'Hey, where are we wrong? What is happening? Is it the training? Is it the lifting? Are we doing too much? Is it rest? Is it food? Is it whatever? Is it the bed?' You go through everything."
https://www.colts.com/news/andrew-luck-calf-strain-next-steps