The Indianapolis Colts are preparing to take on a…
3 min read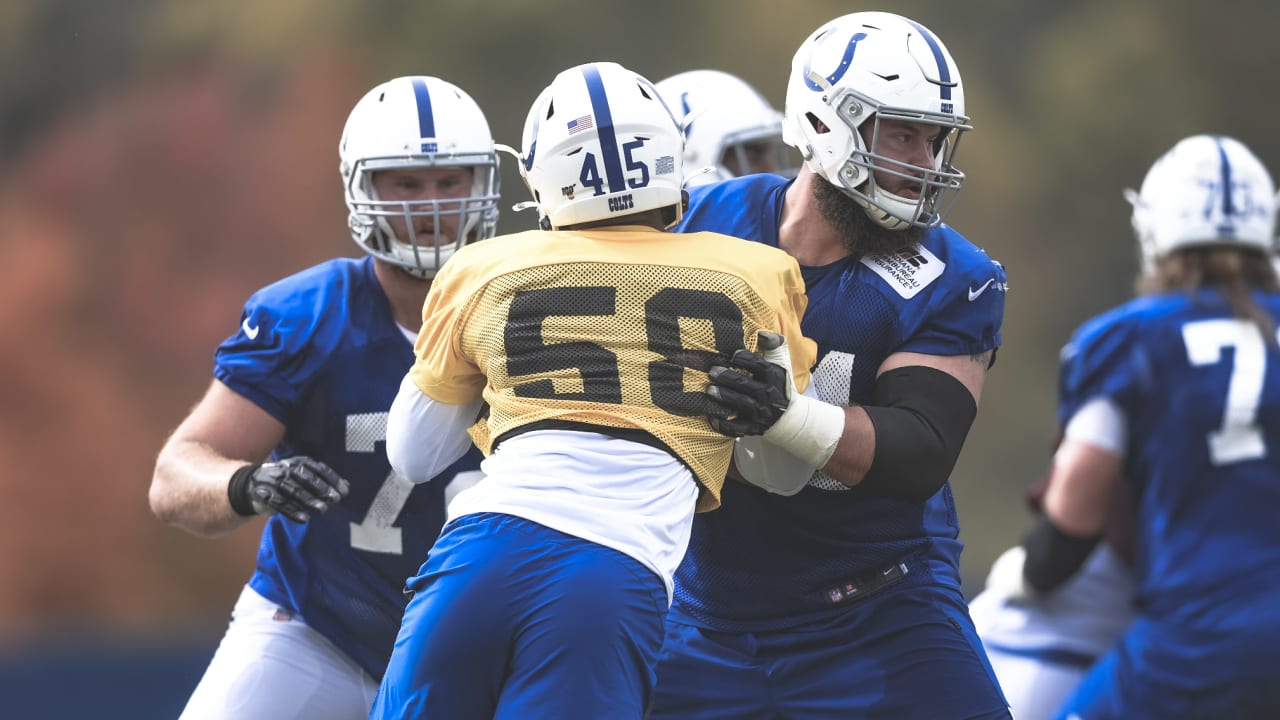 INDIANAPOLIS — Chris Strausser is dishing out a few more tips than usual this week.
Why? The Indianapolis Colts on Sunday are playing host to the Denver Broncos in their Week 8 matchup at Lucas Oil Stadium.
Strausser, in his first year as the Colts' offensive line coach, spent the last two seasons in Denver as an offensive line coach with the Broncos, so it's fair to say he knows a thing or two about the offensive linemen Indy will be facing, as well as the tendencies and styles of some of the defensive players on the opposite sideline.
"Maybe you've given a little bit of tips here and there to the guys (this week)," Strausser told reporters on Thursday.
Nevertheless, it'll be another tough matchup for Strausser and his offensive linemen, who go from taking on one all-time-great pass rusher, J.J. Watt, last week, to another one this week in Von Miller.
Watt last week had an active afternoon against the Colts, finishing with six quarterback hits, but the Indy offensive front, coupled with an alert quarterback in Jacoby Brissett, were able to limit him to zero sacks; in all, the Texans had just one sack total in the Colts' 30-23 home victory.
They'll need a similar outing this Sunday against Miller, who has gotten off to a bit of a slow start with 2.5 sacks and seven quarterback hits in seven games, but is sure to break out at any point; the Colts are hoping it doesn't happen against them.
"I think Von's really starting to kind of get into his groove here," Colts left tackle Anthony Castonzo said. "They're an extremely disciplined defense. Their guys do their jobs extremely well, so, I mean, we're going to have to be extremely disciplined. This is a technique game; it's gonna be kind of who plays their technique better."
While the Broncos (2-5) have had some struggles on offense to this point, their defense, led by new head coach Vic Fangio, has been on point. Denver's defense ranks third in red-zone scoring (38.1 percent), third in pass defense (195.3 yards per game allowed) and fourth in total defense (302.6 yards per game allowed).
Reich is well-aware of what a Fangio-coached defense can do; he was a quarterback with the Carolina Panthers in 1995, when the team had Fangio as its defensive coordinator. Since that time, Reich has had to scheme up ways as a coach to beat Fangio's defenses when he was the coordinator with the San Francisco 49ers and Chicago Bears before taking the Broncos job this offseason.
"(They're) very fundamentally sound, disciplined," Reich said of the Broncos' defense. "They are multiple in that even though from a coverage standpoint, I think they disguise their coverages really well. They play a variety of middle-field open coverages. A lot of times it's really hard to tell which one it's going to be. So you really have to be on your A-game reading coverages."
Justin Simmons has been another standout for the Denver defense, with a team-best 38 tackles and two passes defensed. Defensive end DeMarcus Walker leads the way with four sacks, while Chris Harris Jr. is a four-time Pro Bowl selection and former All-Pro who is one of the more talented cornerbacks in the league.
But it all starts up front by containing Miller, whose 100.5 sacks since the 2011 season are the most in the NFL.
"It is a pretty common thread anytime a team is good on defense is because they've got good players, good personnel and good coaching," Colts offensive coordinator Nick Sirianni said. "There is no exception here. Coach (Vic) Fangio is well known for being a very good defensive coordinator and obviously it is his first time being a head coach. Obviously, his units always propose challenges and they are fundamentally sound. Again, the defense and the players that they have – they have a lot of good players. Obviously, that starts at the top with Von Miller."
https://www.colts.com/news/von-miller-jj-watt-denver-broncos-notebook