T.Y. Hilton Having The Best Training Camp Of His…
4 min read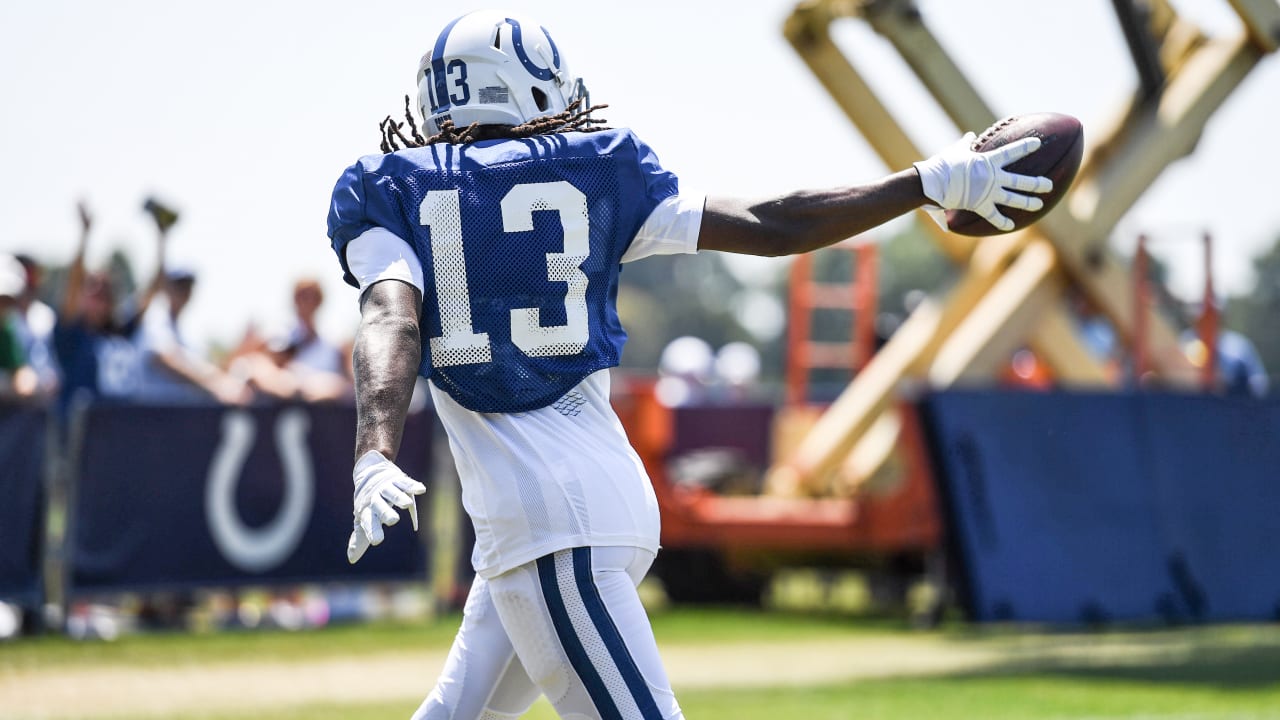 Hilton did talk about why he believes he's having the best training camp of his eight-year NFL career, however.
It comes down to health. Last year, Hilton found himself banged up throughout much of the season. First he suffered a chest injury Week 4 against the Houston Texans; he eventually returned, only to be knocked out of the game again, this time for good, with a hamstring injury.
After missing two games, and then working his way back into the mix the following two weeks — he still had two touchdown receptions Week 7 against the Buffalo Bills — Hilton caught fire following the Colts' bye week.
From Weeks 10 through 14, Hilton averaged more than seven receptions for 126 yards and hauled in two more touchdowns to help lead the Colts to a 4-1 record over that span and crawl back into relevancy in the AFC playoff picture.
But in Week 14, again facing the Texans, while putting together a performance that included nine receptions for 199 yards, Hilton sprained his ankle. And this wasn't your run-of-the-mill minor ankle injury that you can elevate and wrap in ice; it was a high and low sprain to the same ankle.
But with his Colts team still clawing its way into a playoff spot, Hilton wasn't about to watch from the sidelines. After instituting an extremely limited practice regimen — as in, he rarely practiced over the last three weeks of the regular season — Hilton was able to save everything he had for Sundays.
And he didn't miss a beat.
On a bum ankle, Hilton averaged more than four receptions and 94 yards per game over that stretch, and the Colts would win all three games to earn the AFC's sixth and final playoff seed.
Still hobbled against the (you guessed it) Texans in the AFC Wild Card Round, Hilton clowned his division rivals on their own turf, catching five passes for 85 yards. He would haul in four receptions for 60 yards and a touchdown the following week as the Colts would bow out to the top-seeded Kansas City Chiefs in the Divisional Round.
In a season in which he was feeling the effects of multiple injuries over the course of the final 13 regular season games, Hilton caught 76 passes for 1,270 yards and six touchdowns. What's even more impressive: no NFL player had more receiving yards over the last half of the season than Hilton's 917 (Julio Jones was the next closest with 865 yards, and he played in one more game than Hilton over that span).
Hilton was finally able to rest his ankle heading into the offseason, but there was work to be done.
"I was finally able to get back healthy, train how I want to train, and just having my ankle back to where I need it, it's pretty good," he said.
Hilton said he got back to his "old roots" with his own offseason training program that led to him "running my routes, getting to the sand, running beach routes, a lot of training on the track work, just continuing to grind in the weight room, get my strength up, get my route running strong."
"I'm looking good," he said.
Seemingly every day in practice, quarterback Jacoby Brissett is finding Hilton for at least one to two spectacular plays down the field. Already a great route runner, Hilton also has an innate ability to play bigger than his 5-foot-10, 183-pound frame and come down with huge catches in traffic.
His head coach, Frank Reich, has played with and coached some of the best wide receivers the NFL has to offer, and puts Hilton among the best he's seen.
"He looks so good right now," Reich said Monday. "We talk about it all the time: this guy is an elite, elite, elite route runner. He's got elite football smarts. That's just my experience. The great players like T.Y. – especially receivers – they just have that football intelligence that is just off the charts. He just has these instincts to understand leverage and coverage the way few guys do. His body language – again, it's hard to explain but as a quarterback you watch him run his route and you just feel exactly where he is going to be. It makes the throw accurate. Then he's got tremendous ball skills on top of it."
https://www.colts.com/news/t-y-hilton-best-colts-training-camp-of-career