Stellar Defensive Performance Goes For Naught In…
3 min read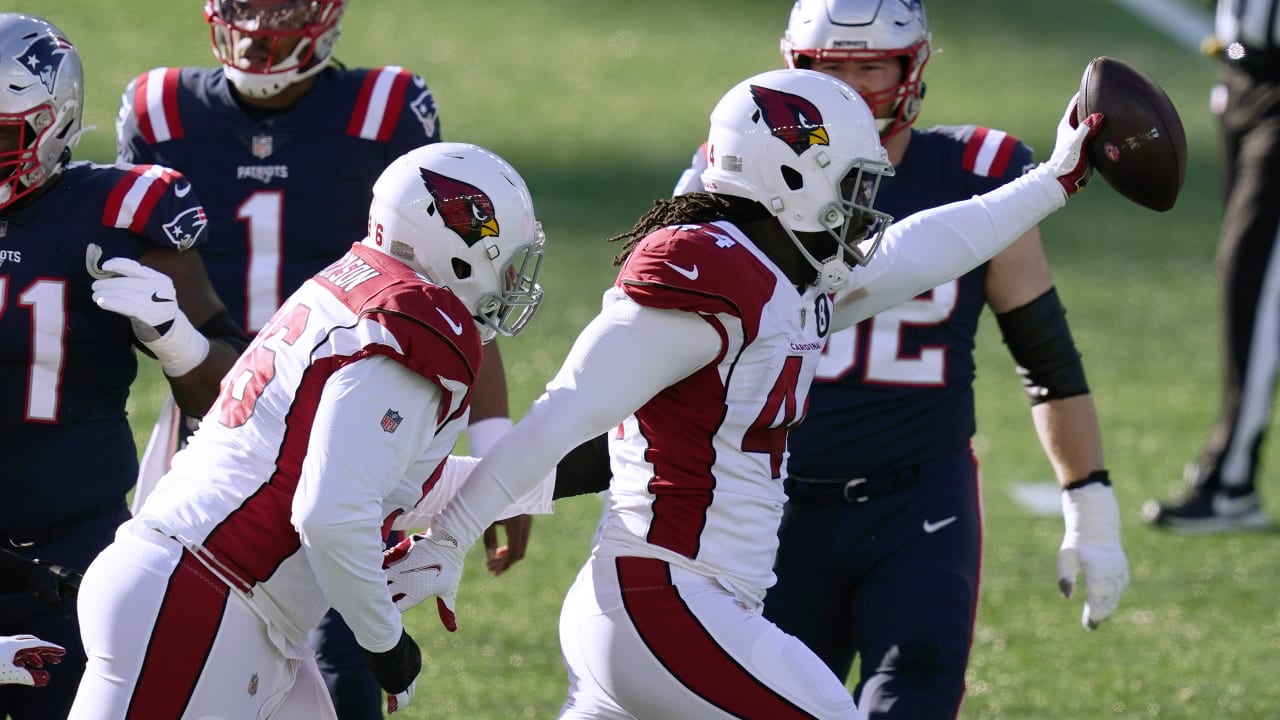 The Cardinals' pass defense was so good on Sunday that even Markus Golden got in on the action.
The veteran outside linebacker had the first interception of his career in the first quarter of Sunday's 20-17 loss to the Patriots, a harbinger of things to come for the defense.
Patriots quarterback Cam Newton finished the game 9-of-18 passing for 84 yards with a pair of interceptions. On a normal day, forcing the opposing quarterback into a 23.6 passer rating would be plenty for the win, but the Cardinals' offense and special teams struggled in the 20-17 loss.
"Some days the offense is going to save the game for the defense," Golden said. "You've got to keep working, no matter what. We're all going to go watch film, fix it and get it right. Maybe I could have stepped it up and made another play to help the team win. You can't point fingers. You just have to keep working hard."
Golden picked off Newton on a floated pass when linebacker Jordan Hicks blitzed untouched into the backfield to affect the throw.
"Jordan made it happen," Golden said. "I had the easy job. It came right to me and landed right in my hands. I was happy it was my first one, but I've got to give credit to Jordan."
The Cardinals scored a touchdown on the ensuing possession to take a 7-0 lead, and the other interception seemed like it might help secure a win when Dre Kirkpatrick nabbed an errant Newton pass as time ticked down in the fourth quarter.
However, Zane Gonzalez missed a 45-yard field goal and a personal foul penalty on Isaiah Simmons helped the Patriots get into field goal position for the win.
"We didn't play our best game offensively, but when we needed it, we got the job done," Newton said. "That's all that counts."
Simmons was flagged after a big hit on Newton near the sideline, although replays seemed to show that Newton was still in bounds, and that any helmet-to-helmet contact was incidental. FOX Sports officiating analyst Mike Pereira said on Twitter that Simmons should not have been penalized.
"I couldn't tell," Cardinals coach Kliff Kingsbury said. "I just saw the replay like y'all did. Looked like the quarterback was still in play, but I didn't get a great look at it."
Simmons finished with five tackles and a sack but had a pair of 15-yard penalties. De'Vondre Campbell had a big game, with six tackles, a sack and two tackles for loss.
New England mustered only 179 total yards, as their point total was the result of good field position moreso than offensive efficiency.
https://www.azcardinals.com/news/stellar-defensive-performance-goes-for-naught-in-new-england