Skrine shines, players fight through sluggish day
3 min read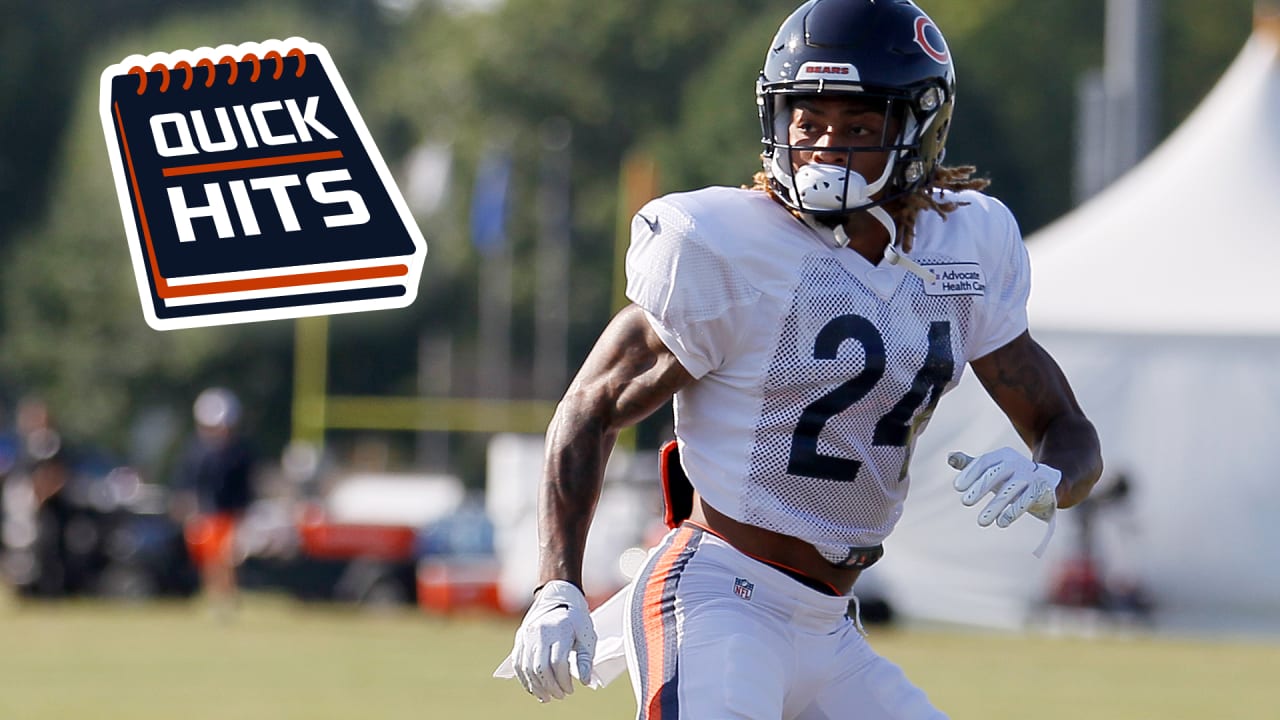 Sluggish day: Nagy acknowledged that Monday's practice wasn't quite the Bears' crispest of training camp. But the reigning NFL coach of the year was pleased with how his players responded.
"Today was the day," Nagy said. "What I mean by that is right now, being in the middle of camp, I think the guys' legs are little bit tired and they're feeling a little bit sluggish. You always have these days. It's a matter of when it comes, and today was it. [But] I thought they did a pretty good job of fighting through it.
"We've got to be mentally tough. Our guys have got to stay strong. They've got to fight through this. Losing teams don't fight through it. We fought through it, and I was appreciative of that."
Taking turns: Elliott Fry and Eddy Pineiro have alternated practices in Bourbonnais this summer, but both kicked in Monday's workout.
Fry made 7-of-9 field-goal attempts, while Pineiro went 6-of-9. During a kicking drill, both converted 5-of-7 tries. Fry connected from 33, 33, 39, 43 and 49 yards and missed from 45 and 52 yards. Pinero split the uprights from 33, 33, 39, 45 and 49 yards and missed from 43 and 53 yards.
"They know they've got to be better," Nagy said. "Today wasn't their day. But again, how do they respond the next time they're out there? That's all."
Pineiro and Fry are both expected to kick in the Bears' preseason opener against the Carolina Panthers Thursday night at Soldier Field.
"They'll both be in there," Nagy said. "Tabes (special teams coordinator Chris Tabor) has a method to his madness. I'm looking forward to it. We'll see."
More rest: Tight end Trey Burton, who had offseason hernia surgery, sat out his third straight practice Monday after participating in the first five workouts of training camp.
"It's not a setback," Nagy said. "I'm trying to protect him a little bit. We need him 100 percent for Week 1. We feel that way.
"But I said it the other day; he didn't do a whole lot with the surgery and everything for five months. It's hard to come back and just be thrusted in and try to look like yourself. We're trying to slowly do it. We'll pick it up. We'll start getting him more reps as we go here. But I'm protecting him right now."
Welcome back: Rookie receiver Riley Ridley returned to practice Monday on a limited basis for the first since he hurt his hamstring July 26.
"There's a clump of guys there that have been off the field that are kind of back on, easing back to it," Nagy said. "He's been one of them."
Line of the day: When a reporter started a question by saying, "Prince Amukamara isn't one of the top tier players on the defense," Nagy interjected: "That's not what he says to us."
The Bears coach did follow by praising the cornerback, a nine-year NFL veteran, saying: "I just like the way that he comes to practice every day. He doesn't use his age or being in this league for a long time as an excuse for [missing] practice. Practice is hard. I like that about him. He's had a good camp."
https://www.chicagobears.com/news/quick-hits-skrine-shines-players-fight-through-sluggish-day