Patrick Peterson Returns To Cardinals After…
3 min read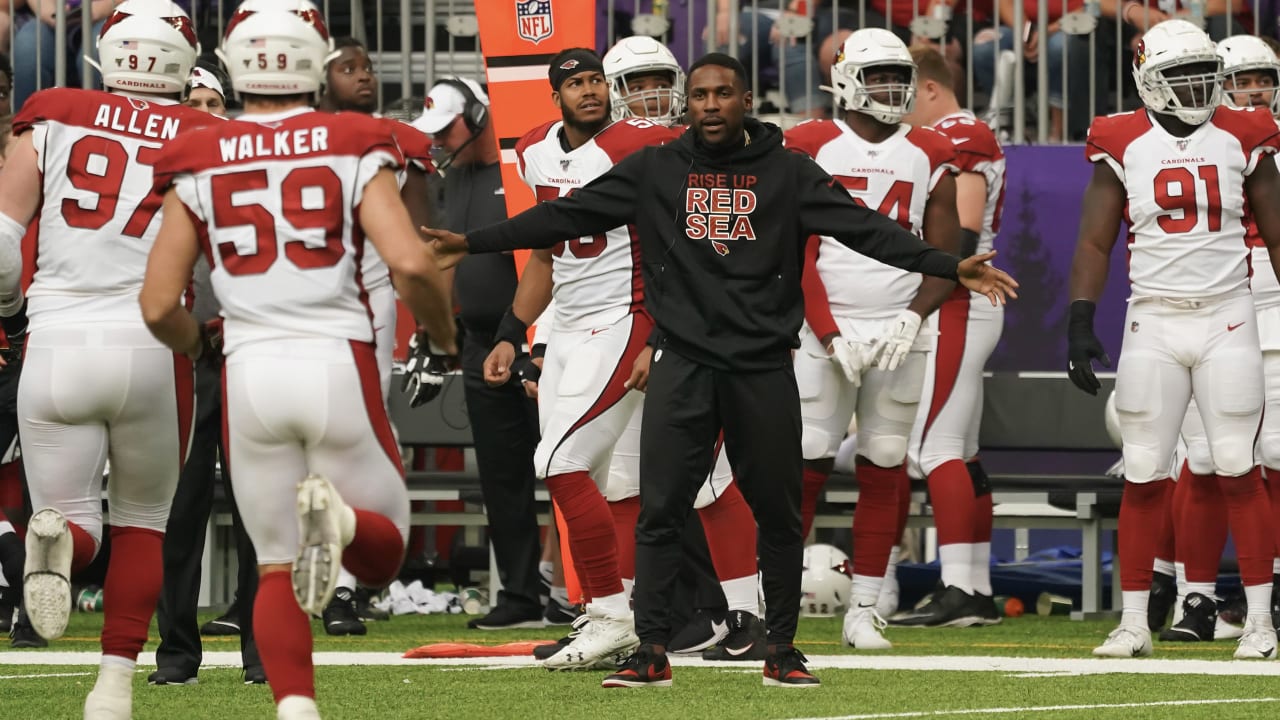 Patrick Peterson was back at the Dignity Health Arizona Cardinals Training Center Monday, his six-game suspension over at a time when the Cardinals could certainly use a Pro Bowl cornerback.
Defensive coordinator Vance Joseph made that clear when he was asked last week where his unit missed Peterson the most.
"Your best player?" Joseph said. "Every down."
Once Peterson's suspension was announced in May for violating the NFL's policy on performance enhancing drugs, it was clear the Cardinals would take a hit on defense. That was long before they suffered other setbacks – the abrupt release of defensive lineman Darius Philon after an arrest, the broken leg of fellow starting cornerback Robert Alford, and the disappointing play (and subsequent release) of veteran safety D.J. Swearinger.
Coach Kliff Kingsbury said the Cardinals already have worked through a plan with the team's athletic trainers and strength coaches to prepare Peterson – who has been working out on his own, but was barred from the team facility or talking football with anyone in the organization.
"We know he's been working hard and will be ready physically," Kingsbury said. "We just have to get him caught up on some things. He's a unique talent, so we're going to put him back in and get him rolling as quickly as possible."
Rookie Byron Murphy and Tramaine Brock have been starting at cornerback, with Brock sliding into the slot with Kevin Peterson as the other outside corner when the Cardinals are in nickel. Murphy figures to remain as the starter with Patrick Peterson. Kingsbury said the rest of the roles will be determined.
But Peterson unquestionably will change the dynamic on the back end.
"The ability to just say, 'you've got this guy' and help in other areas, that's a big positive," Kingsbury said. "When you have a dominant player like him, you can put him on the best receiver and try to help the coverage in other areas."
Wide receiver Larry Fitzgerald joked about how he was excited to get his golfing buddy back, but was serious about how Peterson can improve the defense.
"Guys can get into positions they are little more comfortable with," Fitzgerald said. "Murph has played amazing, I'm happy with how he's played. He's getting better every day and when Patrick comes back they can work together and he'll turn into the dynamic playmaker that his trajectory has shown he can be."
The Cardinals have struggled defensively all season. They have yet to record an interception through six games, they are 30th in passing yards allowed per game, 28th in passing yards per play and their issues covering opposing tight ends has been well-documented.
Kingsbury said Peterson's presence should help with the tight end problems – again, because it will free up the rest of the defense in ways it wasn't free the first six games.
"He's a special player, a lockdown corner," Joseph said. "When you have a guy like Patrick, you don't have to worry about one side of the field. If they decide to attack Patrick, shame on them, but you can make them attack Patrick by helping the other corner. When you have two young corners, it's tough to help one and leave one by himself. A guy like Pat P makes it easy to call defenses because he can take away one side of the field."
Peterson is ineligible to return to the Pro Bowl this season because of the suspension, regardless of how he plays. But that doesn't lessen the impact of his return, both on the field and in the locker room.
"He has a unique swagger," Kingsbury said. "He knows how good he is, he carries himself that way, he practices that way. He practices very hard, takes care of his body. I loved watching him in training camp. He'd go one-on-ones all day every day if he could. That rubs off on his teammates."
https://www.azcardinals.com/news/patrick-peterson-returns-to-cardinals-after-suspension