Omni Viking Lakes Hotel Design Showcases 'Local…
4 min read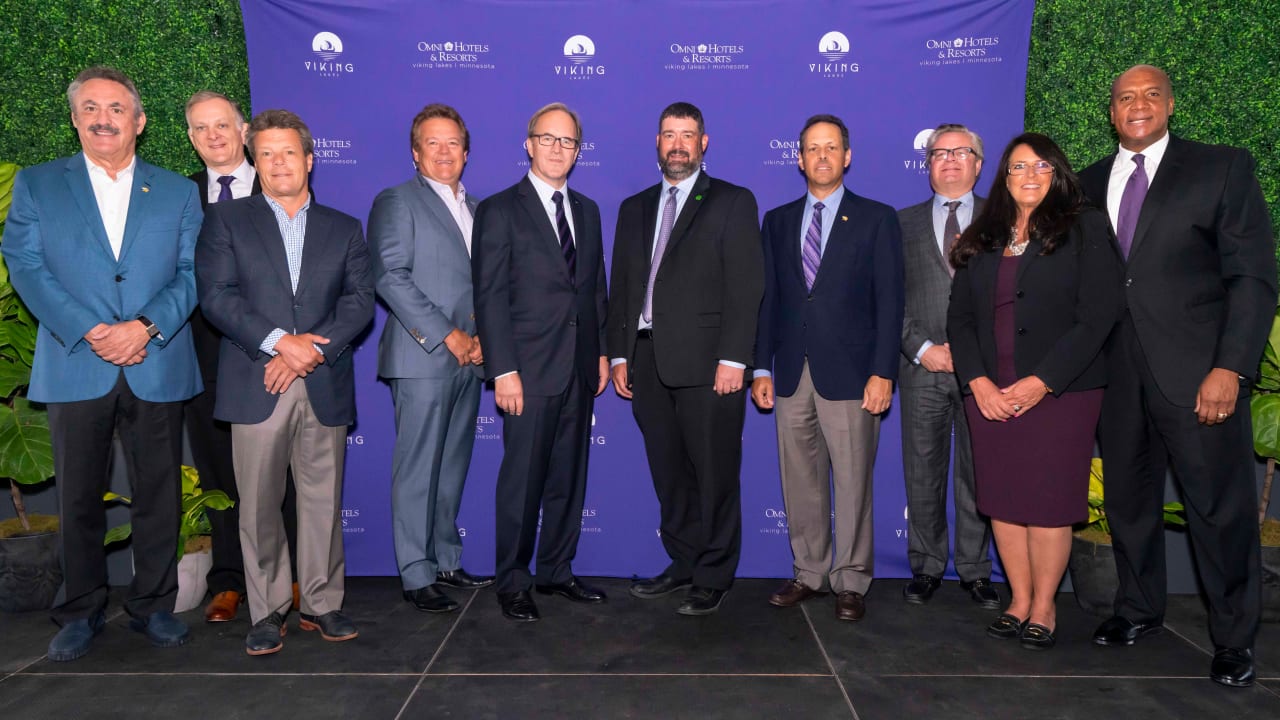 McKoy said she's enjoyed working on this project because of its contrast with other recent Omni properties.
"They're very different. We just opened Barton Creek in Austin, Texas. It is a golf resort with a large spa, and that was inspired by Texas Hill Country homes, so it's very collected, very casual," McKoy said. "Last year, we opened a hotel in conjunction with the Atlanta Braves, so it has a lot of baseball influences. We opened a hotel in Louisville, Kentucky, that is inspired by bourbon."
A recent venture with the Dallas Cowboys has contemporary and subtle nods, she added.
Strebel said Omni Viking Lakes meets selection criteria that he refers to as the "three Rs," which he said are the right project, the right partners and the right location.
"This is truly going to be a destination hotel, a stand-alone hotel that people are going to know throughout the United States," Strebel said. "We're going to market it with a special restaurant, bring in a local chef for creativity, a destination spa and meeting space that will make it second-to-none in the United States."
MV Eagan Ventures Owner/President Mark Wilf said: "This hotel is a crucial component of the entire Vikings Lakes development. It will be a great asset to the community and the region. We are proud to work with all of the individuals and companies to bring this to fruition."
Cambria and Ecolab are Minnesota based companies that are partnering with MV Eagan Ventures on the hotel that will be a focal point of the Viking Lakes development that encompasses the Minnesota Vikings headquarters, Twin Cities Orthopedics Performance Center.
Cambria Chief Executive Officer Marty Davis said his family has enjoyed working with the Wilf family.
"They are first-class people, honorable people," Davis said. "They have high character, and they do business very much in the way we were raised and in the same manner that we run our family business. … We're honored to be a part of this partnership and the organization that makes up this new venture."
Ecolab Chief Executive Officer Doug Baker said the hotel's proximity to Ecolab's neighboring Global Innovation Center will benefit the facility's guests. The Global Innovation Center is a 500,000-square-foot facility on 90 acres and hosts guests throughout the year.
MV Eagan Ventures Executive Vice President Don Becker said "tremendous progress" is being made on the 14-story hotel. Eleven floors of concrete had been poured as of Monday morning, and 68,000 hours of work have gone into the project.
Becker said an average of 150 workers are on the job daily, and the project is exceeding participation goals for targeted businesses and workforce demographics. He said the project set a goal to award 12 percent of the contracts to businesses that are owned by minorities, women and/or veterans and have members of those groups accomplish at least eight percent of the work. Omni Viking Lakes is at 14 percent for both and has involved more than 35 Minnesota companies.
Eagan Mayor Mike Maguire remembered meeting with MV Eagan Ventures Chief Operating Officer Kevin Warren about the potential Viking Lakes development for the first time nearly four years ago. Maguire thanked Warren "for all of the work that you've put in, the kind of person you have been as a leader and for keeping your word to the city."
"The hotel is a critical part of the Viking Lakes vision for a bold mix of uses," Maguire said. "It will attract additional corporations, entertainment, medical, housing and retail to this area, this vibrant corner of Eagan. It was a bold vision four years ago, it is a bold vision going forward."
Warren, who is scheduled to finish his time with MV Eagan Ventures and the Minnesota Vikings this month and become the sixth Big Ten Commissioner next month, said Viking Lakes is emerging as the "epicenter of sports, entertainment, health and wellness" and "a testament to everything that the Wilf family, our partners and Minnesota stand for."
Warren encouraged attendees to "keep dreaming, keep believing, keep pushing each other and don't settle for mediocrity or to just be average, because here in Minnesota, it really is special."
https://www.vikings.com/news/omni-viking-lakes-hotel-design-showcases-local-color-flavor