Nichols returns at ideal time, Skrine mentors…
4 min read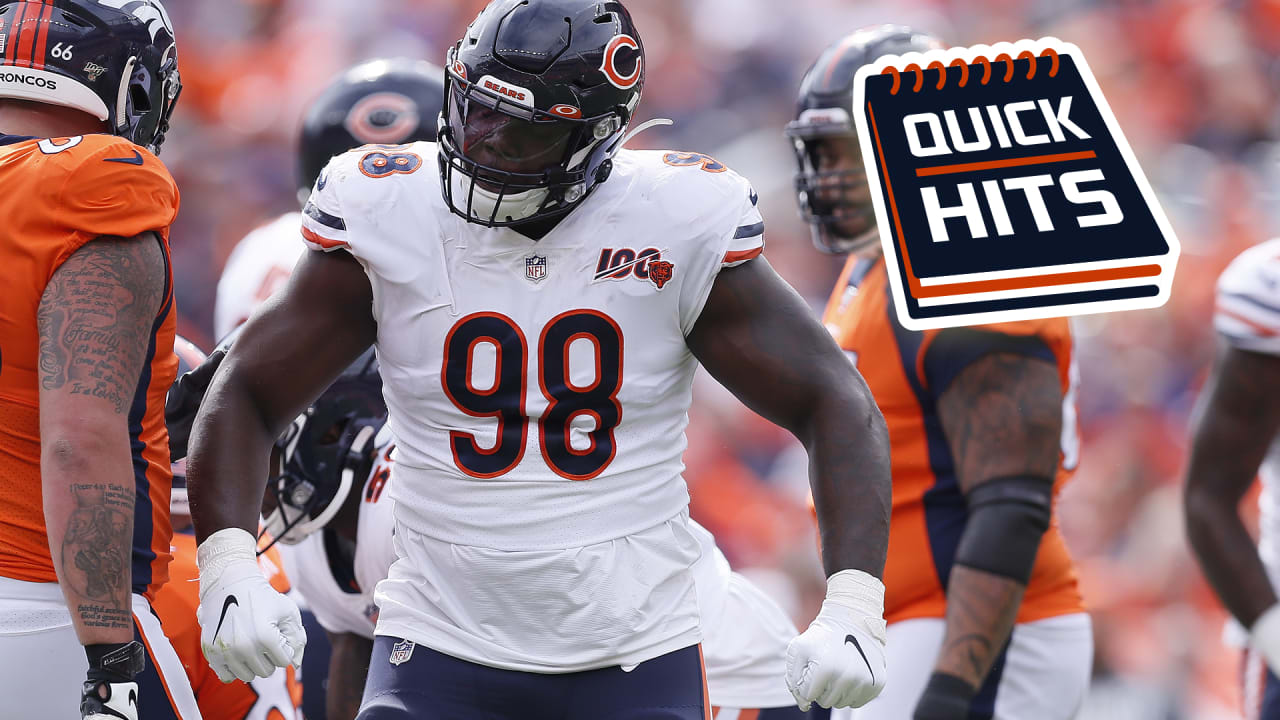 Crowded field: When Nichols returns, he'll have to fight off competition from two teammates who were able to make a splash in his absence.
Nick Williams and Roy Robertson-Harris didn't start the season with much hype, but they currently sit in second and third place on the team in sacks, respectively. Rodgers wouldn't call the pair a revelation, exactly.
"I wouldn't say I learned something different about them," said Rodgers. "What both of them did was take advantage of their opportunities." 
Williams stepped into the void left by Nichols and recorded his first career sack against the Broncos.
"Nick played a considerable amount the last few weeks with guys being down," said Rodgers. "He took advantage of his opportunity to have production."
Robertson-Harris saw his usage increase at the end of last season, but he has never carried as large a load as he did against the Raiders, playing 72 percent of defensive snaps.
"Roy, I've always felt like has had the ability," said Rodgers, "and it was all about putting it together. What you saw Week 1 versus Green Bay and he continued to grow into his own over the last few weeks, and you're starting to see more production from him. It's a process."
Game wreckers: The Bears have invested four first-round draft picks to build a top-notch linebacker corps. Going into Week 7, the coaching staff has liked what they've seen.
Outside linebacker coach Ted Monachino, in his first year with the team, wants everyone to know that "the rumors are all true" about Khalil Mack .
"The more tape gets out there," said Monachino, "the more people realize, 'Not only do we have to tend to him and know where he is every snap, we have to scheme it. We have to make sure that he can't wreck the game.' Because if they don't, he can potentially wreck every game he plays."
After the Raiders–echoing a strategy used by the Broncos in Week 2–neutralized Mack by getting rid of the ball quickly. Monachino promised a coming adjustment.
"This is standard stuff," said Monachino. "When you've got a rare guy, this is what they do. We've got to come up as a staff– I've got to come up with a better way to get him freed up and get him to make some plays."
On the other side, Floyd has not recorded a sack since getting to Aaron Rodgers twice in the season opener, but Monachino rejects the idea that Floyd regressed in Weeks 2-5.
"Leonard Floyd has done a great job of setting edges," said Monachino. "He's done a great job affecting the passing game and coverage. He's done a great job of knocking guys back into the launch point. We've just got figure out ways to get him clear and to get him to finish as a rusher."
The Bears may have found the most consistency with the one starting linebacker they didn't draft (or acquire with a package of draft picks): Danny Trevathan. Trevathan leads the team in tackles and has been a critical component in stopping the run.
"He's doing a great job of finding the ball and tackling the guy that has it," said inside linebackers coach Mark DeLeone. "I mean, he's a natural player."
Showing the ropes: The Bears brought in Buster Skrine to cover the vacant nickel back spot. The nine-year pro has been on the field more often than not this season, racking up 12 tackles and defending two passes.
Some of Skrine's best work, however, has been setting an example for rookie Duke Shelley.
"[Shelley] has a good mentor in front of him to watch," said secondary coach Deshea Townsend. "That guy that's done it at a high level that can tell you things that–as a coach–some coaches can't tell you because it's not the action or the fire that they see. He's benefitting from it."
Shelley has a similar frame and skillset as Skrine and has stayed so close to the veteran that Townsend occasionally mixes up their names. 
Townsend cites Skrine's professionalism and consistency at practice as his best qualities.
"One thing about this league: nobody's waiting," said Townsend. "He better come to work every day because we talk about in the room: we have a whole department upstairs going to look for the next you."
https://www.chicagobears.com/news/quick-hits-nichols-returns-at-ideal-time-skrine-mentors-shelley