Mitchell Trubisky listed as questionable
3 min read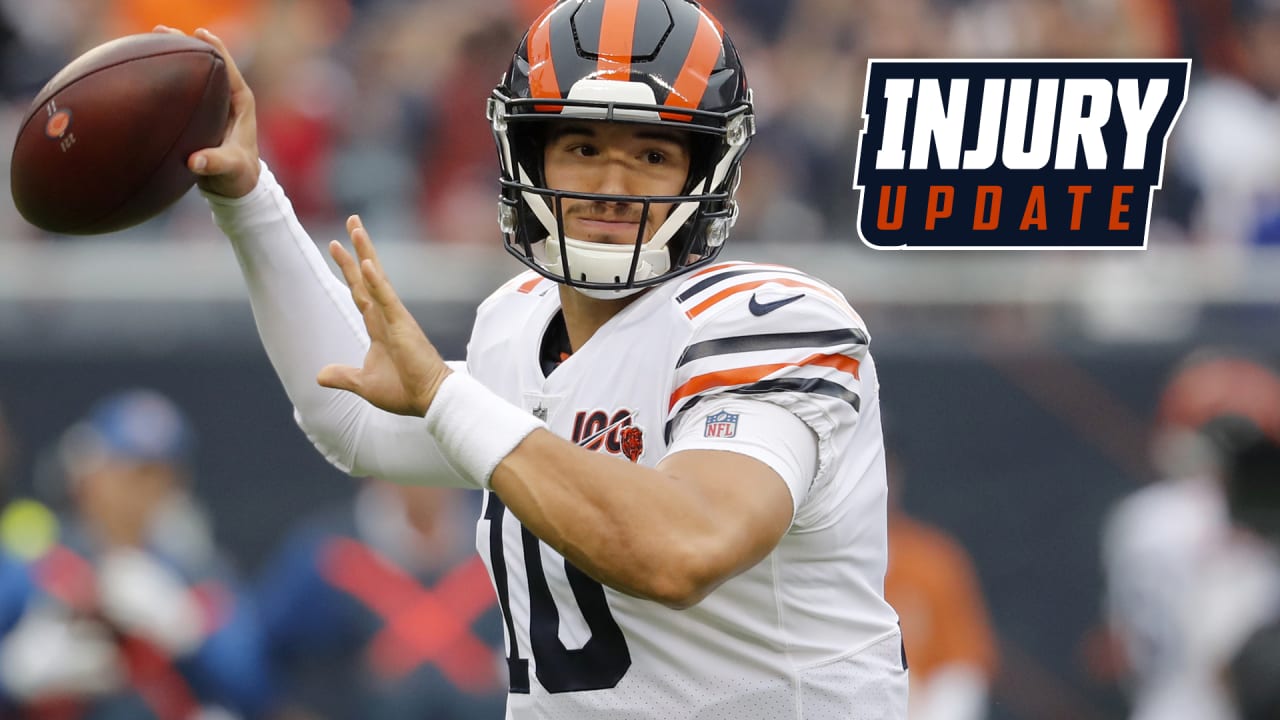 "He's very close," Nagy said Friday. "I feel more comfortable right now than I did on Monday, Tuesday, Wednesday, [Thursday]. I feel he has stacked good days together. Now for us as coaches, we want to go through the whole game plan, where we're at. We'll collaborate and say, 'Hey, where do we think he was physically,' and talk to the trainers, and then mentally."
Nagy liked how Trubisky executed plays at game-speed in practice during the week.
"Mentally, physically, I feel like so far he's passing the test, and I feel good about it," Nagy said. "I don't want to say that and say he's going to be the guy and then all of a sudden for whatever reason he's not."
Nagy plans to speak with offensive coordinator Mark Helfrich and quarterbacks coach Dave Ragone before finalizing the decision to start Trubisky.
"A lot of it's mental right now," Nagy said. "And then so coach Helfrich, coach Ragone, myself, we'll see where we think he's at as far as the balance of physical and then the mental side of it, how did he handle the week; executing, getting in and out of the huddle, all that stuff, combined with everything else he's doing."
After missing two games last year with a right-shoulder injury, Trubisky returned against the Rams and posted his lowest passer rating of the season (33.3) while throwing three interceptions for only the second time as a pro.
Nagy felt that Trubisky's performance was a result of facing an excellent defense and also being a little rusty.
"We've been through this before," Nagy said. "We want to make sure because of the results of what happened last year in that game, how do we prevent that really from happening again? And that's the mental side.
"Was he so focused on rehabbing back that it took away from the mental part of the game, or was it just the game? That's where we need to collaborate here in the next 24-48 hours and say, 'We feel good,' because if we feel good about it and we want to do it, there's no looking back."
Two other Bears players are listed as questionable for Sunday's game: defensive end Bilal Nichols (hand and knee), who was limited in practice Friday; and guard Ted Larsen (knee), who worked out without restrictions.
After missing the last three games with a broken hand, Nichols practiced in full Wednesday and Thursday. The second-year pro is typically limited in Friday practices because they're held on artificial turf inside the Walter Payton Center and the Bears want him to rest his knee.
Receiver Taylor Gabriel and linebacker Joel Iyiegbuniwe both practiced without restrictions Friday and were removed from the injury report.
The Saints on Friday ruled five players out of Sunday's game, including quarterback Drew Brees, running back Alvin Kamara and tight end Jared Cook.
Brees has been sidelined since injuring his thumb in a Week 2 loss to the Rams.
Kamara will miss his first game of the season due to an ankle injury. The two-time Pro Bowler ranks sixth in the NFL with 649 yards from scrimmage (373 yards rushing on 86 carries and 276 yards receiving on 33 catches).
https://www.chicagobears.com/news/injury-update-trubisky-listed-as-questionable