Game Preview: Cardinals at Vikings
2 min read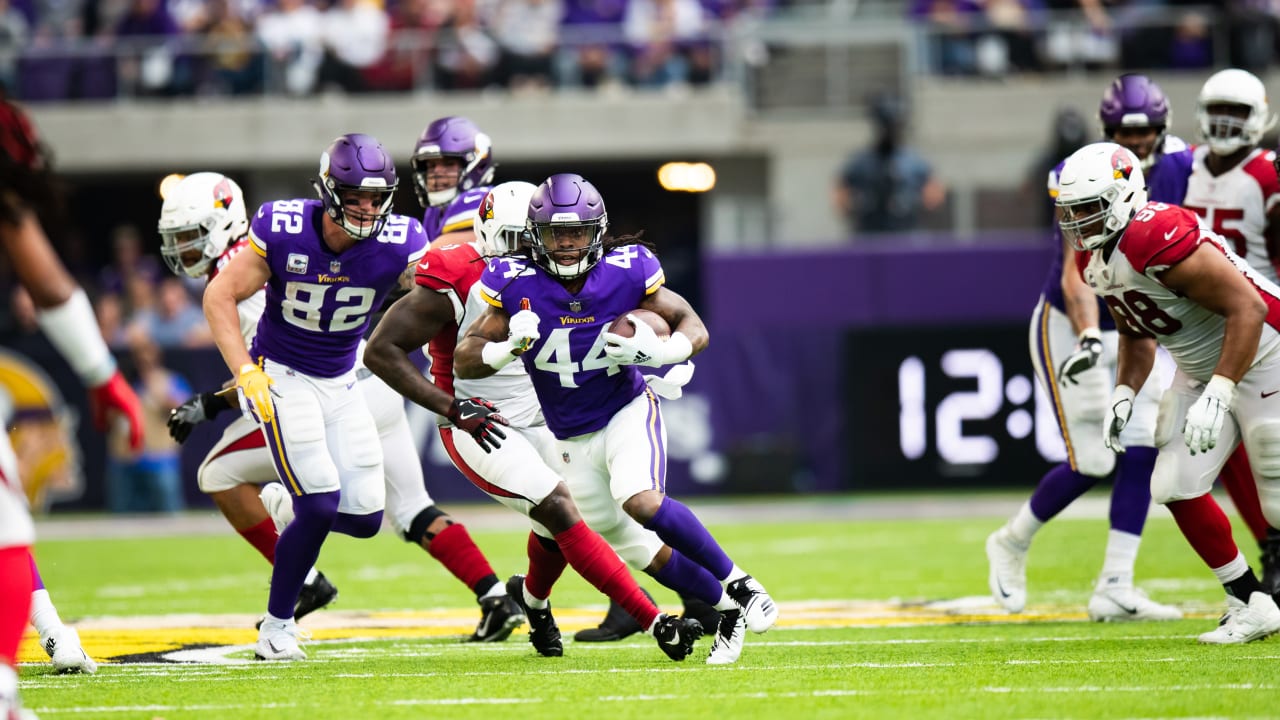 VIKINGS TOP PERFORMERS VS. CARDINALS
Kirk Cousins: 4 starts in regular-season games (one with Minnesota), 87-of-135 passing, 64.4 completion percentage, 1,054 passing yards, 6 TDs, 5 INT, 87.7 passer rating, sacked 9 times, 2-2 record
Stefon Diggs: 3 games, 11 receptions, 82 yards
Adam Thielen: 3 games, 17 receptions, 195 yards, 2 TDs (Thielen had 11 catches for 123 yards and a score in 2018 against the Cardinals)
Kyle Rudolph: 5 games, 12 receptions, 116 yards
Anthony Barr: 2 games, 12 tackles (6 solo), 1 TFL, 1 FF, 1 PBU
Danielle Hunter: 3 games, 11 tackles (8 solo), 5 TFL, 5.0 sacks
Xavier Rhodes: 3 games, 13 tackles, 1 TFL, 2 INT, a 100-yard interception return touchdown, 5 PBU
Harrison Smith: 3 games, 26 tackles (18 solo), 2 TFL, 2.0 sacks, 1 INT, 1 PBU; returned interception 31 yards for a touchdown on Oct. 21, 2012, for first career pick-six
VIKINGS-CARDINALS SERIES NOTES
This will be the 15th preseason meeting between the franchises in a series that began in 1962, Minnesota's second season in the NFL. The Cardinals, who were still based in St. Louis back then, prevailed 24-21 in front of 15,500 at Parade Stadium in Minneapolis.
The franchises have been quite nomadic with preseason contests, meeting in Atlanta in 1964 (before the creation of the Falcons) for a game attended by fewer than 10,000 fans and Memphis in 1969 (50 years ago yesterday). The attendance for that game was 34,417. The franchises also became the first NFL teams to venture across the pond when they met in front of 32,847 at London's Wembley Stadium.
The franchises have met 26 times in regular seasons and twice in playoff games. Minnesota has a 17-11 edge in the series, including a pair of postseason victories.
Longest Vikings winning streak in series: 5 games (Nov. 12, 1995 through Nov. 12, 2000; includes one playoff game)
Longest Vikings losing streak in series: 4 games (Nov. 6, 1977 through Oct. 30, 1983)
https://www.vikings.com/news/vikings-cardinals-preseason-game-preview