Bill Polian On 2019 Colts, Andrew Luck, Frank…
5 min read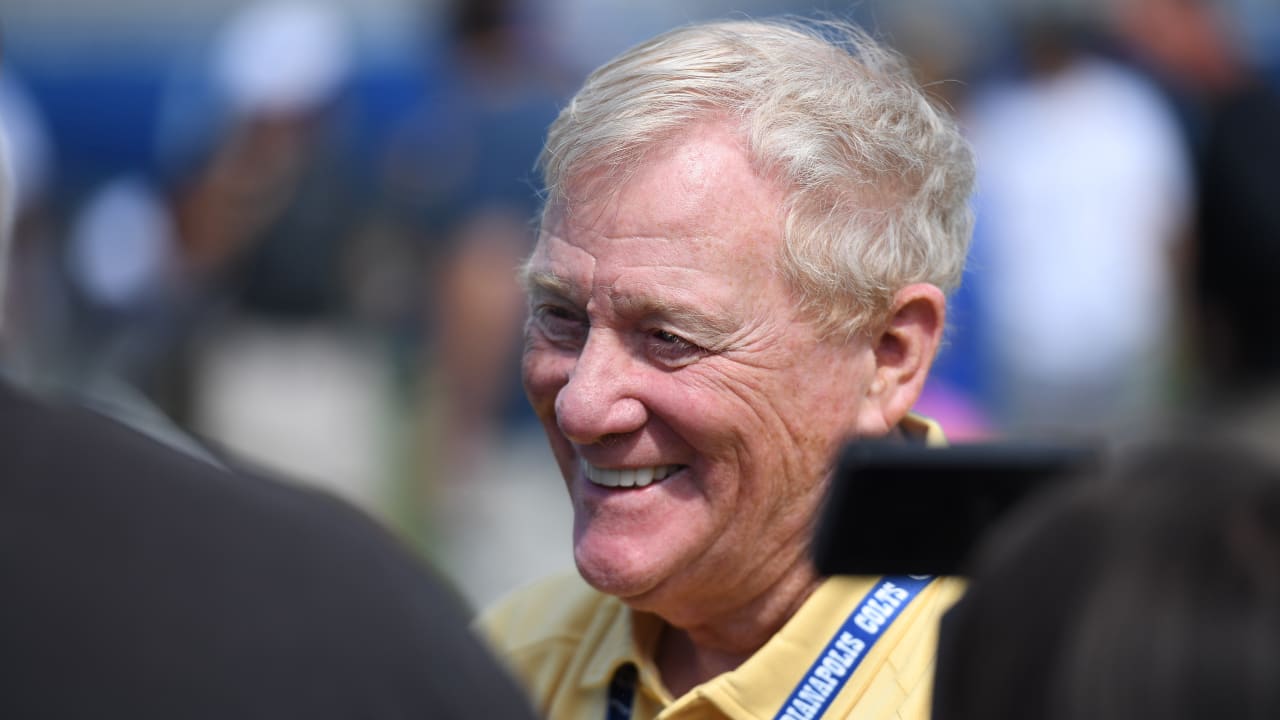 What can you tell when you visit here? What's your impression of this Colts team?
Polian: "Well, I have a pretty good feel for them because we had two or three of their games last year on ESPN Radio, so I have a really good feel for how well they've progressed. And Anthony (Castonzo) just said it best on our Sirius Radio interview: when they lost the (five out of six) to start the season, they were playing good football, they just weren't finishing, the Cincinnati game being the best example; they're driving for a game-winning touchdown and get a turnover. So you could tell that all was needed was 'Take the next step,' and they did. And this is a talented team with some guys that are really going to be good players — they are now, but they're gonna be better. The linebacker (Darius Leonard), Quenton Nelson … 53 (Leonard) is outstanding. I think Malik Hooker's going to be a really good player. T.Y. (Hilton) … guys that can win games in the National Football League based on their ability. And then, of course, a quarterback position that top to bottom may be as good as anybody in the league. So there is that. An offensive line that's really solid, and the right tackle (Braden Smith) has done a great job, and that's a credit to the scouting staff and he's been developed and coached, which you would expect given this coaching staff. The defense, of course, looks very familiar, and to a certain extent, it's easy to understand what they do now; they're doing more things than we did blitz-wise, but that's good."
But they don't have Dwight Freeney and Robert Mathis.
Polian: "Well they don't, but the game has changed, too. So they need more of that, and they're probably as good or better inside than we were. And, as I say, 53 (Leonard) has a chance to be super. So there are good players, they're well-coached, it's a good organization. Everything's looking up. The next step is the hardest step, you know? (Make) the playoffs, you become a team that's viable that everybody else in the league says, 'They can play; we better get ready for 'em.' So now the stakes determine outcomes when you're playing against good teams, and so you've got to be good with that, go beyond the details … but all of that is coaching, and so I'm extremely confident that they'll get that done. So health is a key factor. Depth is always a factor when you are a contender because now you're not talking about going just 16 games, you're talking about going beyond, and that's not unrealistic with this team. Clearly not. I don't think last year is a fluke by any means. I think this is a team that's going to get better."
As the former president and general manager of this team, at this point, would it bother you or concern you that Andrew Luck's not practicing yet?
Polian: "No. No. He's seen more than enough to not need this work, necessarily. The preseason's for two things — you've heard this before: find football players and get your team ready to play. And he'll be ready to play…"
Polian: "And stay healthy. Yeah."
But is there a concern when Luck's not out there facilitating the offense for the players down on the roster who are fighting for spots?
Polian: "No, because he wouldn't be in with those guys anyway, until the end of the preseason; third game. No. Actually, it's giving (Chad) Kelly more reps, it's giving 7 (Jacoby Brissett) more reps. They need that work, and they need that work with players who are going to be ascending. So, to me, it's a plus for roster building."
Do you look at this as an embarrassment of riches for them as far as making those decisions?
Polian: "Well, no. At the quarterback position, yes."
Polian: "Well, other places, I think, Chris (Ballard) would tell you that there's probably room to grow. But Mike (Chappell) just mentioned one: you need to be a little more dominant in the pass rush, and maybe a little more depth in the offensive backfield. But defensively it's a work in progress, but the first group is pretty good. So depth, I think, is always (a desire), but true of everybody in the National Football League. Everybody complains about depth because there isn't enough."
What's your take on Frank Reich and how he handled his first season, coming back from 1-5, and then heading into Year 2?
Polian: "Well, Coach of the Year in my opinion, but that's just some bias, obviously. Secondly, not unexpected. We talked in the locker room after the Cincinnati loss, and he was positive and was upbeat and saw the game as it developed the right way, he was confident that the guys were tuned in and buying in, and that it would only be a matter of time. And it was. So he's proven what he's got. But, again, I've known him since he's 21, so that was no surprise. Anybody that's been around him was not surprised at the outcome."
What did you know about Reich at 21 that made you feel he could be successful at coaching down the road?
Polian: "Leadership. Studiousness. Son of a coach. Great feel for the game. Great person. Players gravitate to him. Humble in whatever role he had. He took the Bills to the playoffs and into the championship game in the year where we were decimated by injuries — Super Bowl XXVII — and Jim Kelly came back, (Reich) sat down (and) he was as good a teammate as you could ever find. Still bought into everything that our team was doing and helped make our team better. I'm sure he wasn't happy to leave the field, but you wouldn't ever tell it. And he never changed the way he dealt with people. He's a unique individual. This franchise has been blessed to have had Tony Dungy and he (Reich). (Lots of) franchises would be lucky to have people like that."
https://www.colts.com/news/bill-polian-on-2019-colts-andrew-luck-frank-reich