5 Bears players to watch versus Colts
3 min read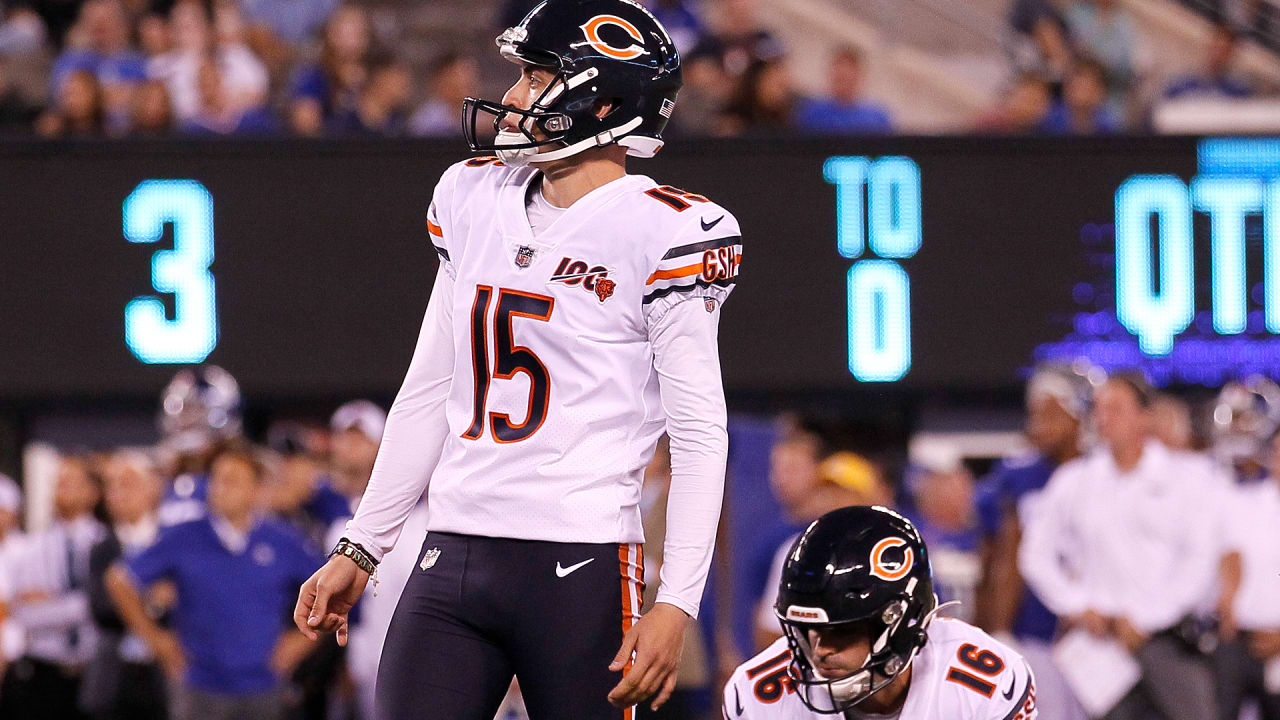 Riley Ridley, receiver
After catching three passes for 19 yards in his preseason debut last Friday night against the Giants, Ridley will look to take another step versus the Colts. The rookie fourth-round pick from Georgia has been eased back into action since returning to practice Aug. 5 after missing a week-and-a-half of training camp with a hamstring injury.
"He's done a really good job of digesting everything," Nagy said. "He knows what he's doing. He has a great feel. When teams play zone coverage, he has a good feel for that. He has excellent ball skills, so that's just showing up. It was a bummer, him getting banged up a little bit there. I think he's back on track. I'm excited to see what he can do."
Bunting has excelled during training camp. The 6-7, 255-pounder, who grew up in the Chicago area and teamed with Bears rookie receiver Thomas Ives at Hinsdale Central High School, boasts an impressive combination of size and athleticism.
In the preseason opener against the Panthers, Bunting caught three passes for a game-high 77 yards, including a 45-yarder that set up a field goal on the final play of the first half.
"He's been pretty consistent, which is what you look for in these guys," Nagy said. "He's going to have two more games here, two opportunities to show what he can do."
Bunting caught 28 passes for 313 yards in 47 games in four seasons at Michigan from 2014-17. He graduated with a degree in organizational studies before enrolling at California as a grad transfer. Last year with the Golden Bears he had 18 receptions for 195 yards in 13 games.
Duke Shelley, cornerback
Shelley also has performed well in training camp, displaying quickness and ball skills. The sixth-round pick from Kansas State hopes to continue to impress in the final two preseason games. It doesn't appear that he will beat out veteran Buster Skrine for the No. 1 nickel spot, but Shelley could fill an important role as a rookie by providing depth in the secondary while contributing on special teams.
Shelly was selected by the Bears with the 205th pick in the draft. He appeared in 38 games with 37 starts over four seasons at Kansas State, where he recorded 165 tackles, eight interceptions—returning two for touchdowns—and seven tackles-for-loss. He started all 12 games he played as a junior in 2017, ranking fourth in the Big 12 with 13 pass breakups while earning honorable mention all-conference recognition. Shelley opened the first seven games last year before sustaining a season-ending toe injury.
Clifton Duck, cornerback
Duck made an impact play against the Giants, diving to intercept a pass at the Bears' 1-yard line and returning it 62 yards. The undrafted rookie from Appalachian State has flashed in practice as well, impressing coaches with his instincts and ball skills. The 5-9, 176-pounder registered 12 interceptions in three seasons in college.
Bears coaches will be watching Duck closely against the Colts and Titans, hoping that he's able to continue to flash. With young players, they want to see them build on their success.
"The consistency's important," Nagy said. "Just like we tell them don't make the same mistake twice, let's see if they're the ballhawks this next game. Or are they getting blocked the whole time now and they're not around the quarterback? Or are you being around the football like Duck was on that interception [against the Giants]? So it just allows us to kind of see, 'Are they able to follow that up?'"
https://www.chicagobears.com/news/5-bears-players-to-watch-versus-colts