49ers Coach Kyle Shanahan Transcript
8 min read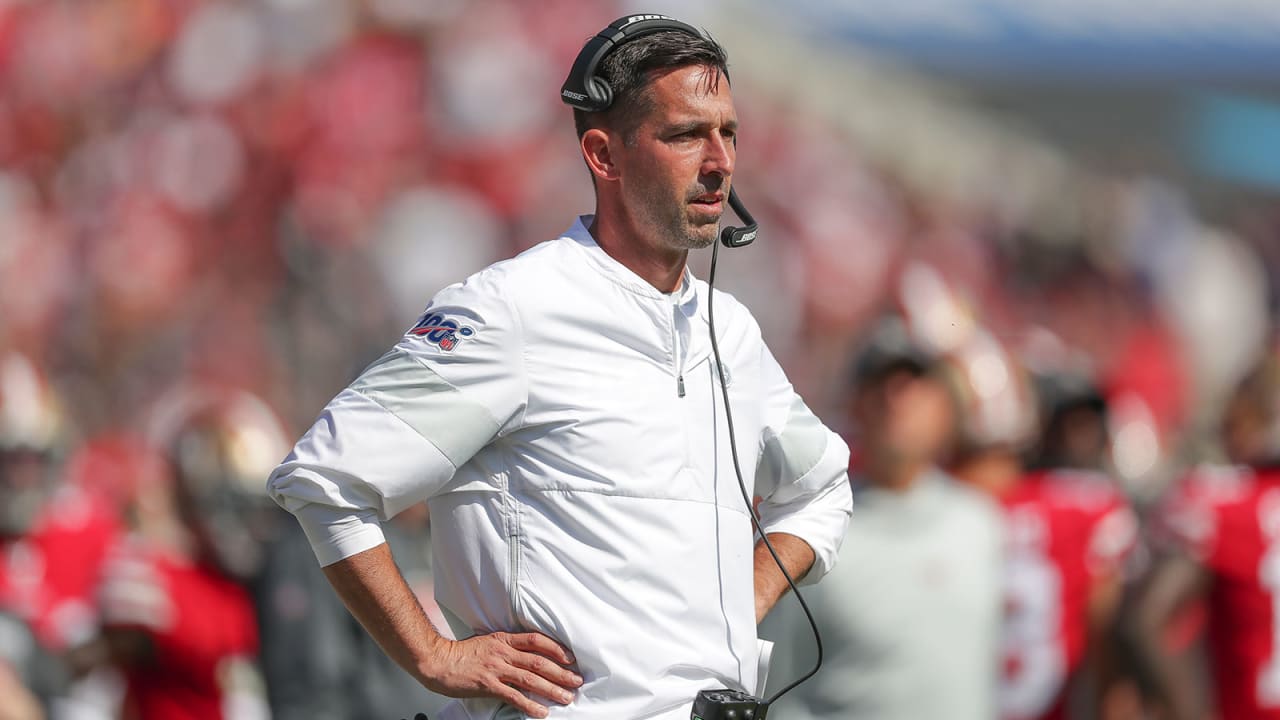 On his first game as a head coach against the Panthers in 2017
"Yes, of course. I have memories from all the games I've had against the Panthers. A bunch of tough ones, especially being in that division when I was there in Atlanta. Also, started out my career in that division when I was quality control (coach) at Tampa Bay. Then, I thought I got away from them, but I had to have my first game as a head coach against them, but now they're back this year. They're always a tough team to play. Played them for over the last decade, and they always seem to have a great defensive line, the same type of defense, running the ball well like they always have. You can see why they're up there as one of the best teams in the NFC right now."
On his first recollection of Panthers RB Christian McCaffrey
"I knew Christian when he was so much younger. I just remember him always after the Broncos games being on the field after the game. Him and all his brothers just playing tackle football out there. I remember seeing highlights of him that Ed (McCaffrey) would show us when he was like a second grader. He looked the same then as he does now. Didn't realize it would continue to go at that big of a freak level, but I was very close with his parents. Ed and Lisa are really good friends of mine. His dad was my hero. He's why I wore No. 87 in college, trying to be a receiver like him. Just to watch Christian end up being the player that he is, is pretty cool."
On drafting DL Solomon Thomas over McCaffrey in 2017.
"It was tough, very tough, especially being an offensive coach and thinking all the fun things that you can do with a guy like that, but we're happy how it ended up and I'm glad that he's happy there in Carolina. It's definitely a hard feeling like I'm watching Marshall Faulk coming to town."
On game planning for McCaffrey
"You've just got to be on it. It's not like you can just get amped up and just go hit him hard. You better make sure everybody is in their gaps and in their exact right positions. He's very smooth at how he runs. His feet are always under him. He can make violent cuts. He does run hard, but the thing that's scary about him is he always finds the open gap, and if you get a guy out of a gap, he will be on your middle third player faster than anyone in the league. He does a very good job of making that guy miss without breaking down. That's why he's got so many long runs this year."
On preparing for the Panthers front seven
"Yes, it's good to hear other people worry about that stuff, because I feel like that's my worry every single time I've played the Panthers in my life. Panthers are very similar. It reminds me a lot of our defense. It always starts with the defensive line. It's huge advantages for defense when you have the type of defensive line that can affect the quarterback with only four guys coming. It's a lot easier to play coverage with seven."
On only giving up eight sacks this year
"I credit the entire offense. We had a huge challenge. We lost our swing tackle in preseason. We've lost our two starters here about a month ago. Having to go in with the fourth and fifth tackles – they've come in and they haven't played like that. They've played better than that. They've stepped it up, they've been great, but also we've been able to get about 40 runs, I want to say, in the last four games, which keeps you out of a bunch of those situations. That's been a credit to how our guys have blocked. It's been a credit to moving the chains on third down. It's been a credit to how well our defense has played too that's allowed us to have a lead and to try to run the ball. Then when we have thrown it, our receivers have done a good job of getting open fast, and Jimmy has done a good job of not holding onto it."
On preparing for Panthers QB Kyle Allen vs. Cam Newton
"It's probably the first time since Jake Delhomme that I can remember someone else playing, or with me being on the team, playing against him, but Cam is also a headache to prepare for. All the runs that he can do, the stuff they can do with him off of it. Kyle has come in and he's done such a good job. He's been running their offense very well. Doesn't run with the ball like Cam did, but in the pass scheme, he's been very efficient. He's had time, he's a very balanced thrower, very accurate. He's made some very good plays. He's found a way not to lose the game also, which is always a big deal. That's what allowed their defense to really, to me, tee off. They've gotten their offense scoring pretty well. I think they're fifth in scoring. I think it's been a lot to do with how efficient their quarterback has been."
"Yeah, depending on what the quarterback can do, it changes everything, and what stuff you have to prepare for. There's more than one way to win and there's definitely more than one way to lose. I know how big of a headache preparing for Cam Newton is. So I don't want to take anything away from Cam. Cam has been as hard as any quarterback to prepare for throughout his entire career. Anytime there's a threat of running quarterback power on third and five at any time, and still being able to make plays with his arm, that scares a lot of people. I think people get relieved to know that they don't have to deal with that, but the way Kyle has been when he's come in, people have quickly seen on tape and from these games that there's different problems. Kyle can play also, he does it a different way, but he's shown in all these games he's played in that he's a good NFL quarterback and that he's got the capability to play at a high level."
On San Francisco's stout defensive front
"Yes, without a doubt. That was one of our goals when we came here. That was the way John (Lynch) envisioned trying to build it. They had invested in a few D-linemen before we got here, and we wanted to continue doing it the same. That's kind of the blueprint to get to the Super Bowl. Usually you watch these teams that have done it defensively. They've always usually have some pretty dominant D-lines. We have some guys already here to begin with, and the guys we've added have given us a chance to have one of those types of D-lines."
On if they met with DE/LB Brian Burns in the pre-draft process.
"Yeah, we were big fans of Brian. Loved his tape. We had him down here on a visit. Got to go to dinner with him. We loved the person too. We thought he was a real cool guy. He's looked on tape a lot like we expected. He's definitely a problem. He's a good edge rusher. He's good at playing the run too. You guys definitely got a good player there."
On what DE/LB Bruce Irvin add to this defense.
"The same thing he's always done. He sets the edge very well. They've been mixing in the 3-4 a lot with their four-down personnel, and he plays out of it at a very high level. The Sam backer, you can put him on the tight end, he can beat the tight end up in the run game, and if you fall asleep on him, he'll hurt you in the pass game too."
On adding WR Emmanuel Sanders
"We've been a fan of him for a long time. I think he's played at a high level for a long time. I think he's got a skillset like a top receiver, but the way he plays. He just competes in the run and the pass game, he competes when the ball is in the air, he competes when the ball is in his hands. You can tell winning is extremely important to him. Really wanted to get a real good receiver, which we know we got, but more importantly, wanted to get a real good football player, and that's what I've always seen from him."
On Sanders' fit in the offense
"We'll see how this week goes, but we definitely plan on playing him. We haven't got out to practice yet. We're on these west coast times. I'm going to go out here in about a half an hour. We'll see how he adjusts to his first day at practice. He got in late last night. It's been kind of a crammed session for him today. We'll see how it all goes. It's a lot to put on him, so you never know, but we'll put him in a situation that he can handle, and we'll see how it goes throughout the week to help us figure it out."
On versatility of San Francisco TE George Kittle in his offense
"Much easier – Kittle makes a lot of things easier, and the fact that he's such a threat in the pass game and how good he does in the run game blocking. He's a fun guy to coach, and he's having another hell of a year."
On Panthers TE Greg Olsen
"Greg's has been one of the best to do it over this whole decade. He's one of the best. I keep waiting for him to go to the booth fulltime, but he doesn't, and every time I turn on his tape I see why. He can still play at a high level. Helps them out. You can tell whether it's Cam or Kyle, they depend on him a lot. You can tell he's one of their better players, and he's been for a long time."
https://www.panthers.com/news/opposing-view-49ers-coach-kyle-shanahan-transcript