2019 Training Camp, Part 1' Episode Recap
5 min read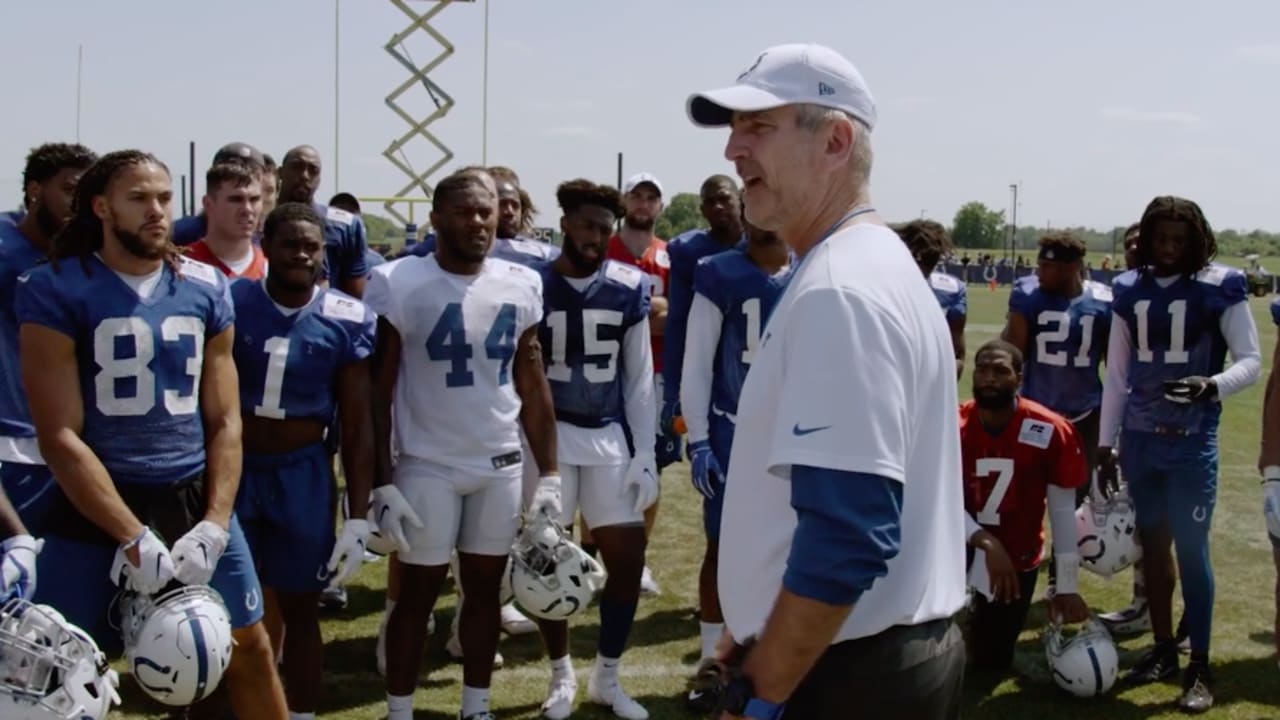 Here are some highlights:
» This episode starts out with a hilarious behind-the-scenes look just before the start of practice, inside the Grand Park Events Center. Tight end Eric Ebron is mic'd up and waiting for wide receiver T.Y. Hilton before starting on their way to the outdoor fields, but, as Ebron alludes to, "Then again I might not have even seen him, 'cause he is a ghost," referring to Hilton's nickname.
» As Ebron continues to wait, Howard Mudd, the Colts' senior offensive assistant coach, emerges and is about to hop in his cart to drive himself to practice. "Are you waiting for a ride?" Mudd asks Ebron. "No sir! No sir!" Ebron responds. "I'm a bad driver," Mudd says. "The only thing I like to do is go fast." Mudd then speeds away.
» This episode is mostly centered on the tireless efforts by the Colts' organization to move the entire operation from its West 56th Street facility in Indianapolis up the road to Grand Park in Westfield for the start of camp. We're introduced to all sorts of key figures who are integral to the Colts' operation behind the scenes.
» But first, you hear from Colts general manager Chris Ballard and head coach Frank Reich, each of whom set the stage to explain just how important training camp is to what they're trying to accomplish. "I mean, look: OTAs and the offseason program's great 'cause it's getting you ready," Ballard says. "But now, when we hit into training camp, now we're building a team and getting our team ready for the season." Reich says: "I enjoy everything about training camp. Training camp is where the emphasis is on, 'Let's start from the ground up, lay the foundation again. … We always talk about climbing that mountain, and so here we are at training camp; now that climb really starts."
» The move begins. Jon Scott, the Colts' vice president of equipment operations, explains just how much is involved in getting everything the team needs to Grand Park. "We probably take close to 80 percent of everything that's in this room right now," Scott says from the Colts' headquarters in Indianapolis. "Shoe-wise, probably 150 pair, for sure. Helmets, shoulder pads, 25 to 30 sets of each shoulder pad, and probably about the same helmet-wise as different players come in and out of the roster. So we can't forget anything."
» Jeff Brown, the Colts' director of operations, makes sure every step in the process is done smoothly: "We take our facility here and we move it to Grand Park," he said. "And it takes a lot of people. It takes every football department, it takes a moving company that's on the same page, it takes a lot of interns that put in a lot of work. And the idea is to allow the coaches and the players to really just walk in and be ready to work."
» Stewart Cramer, the team's video director, estimates the Colts move about 2,000 pounds alone in video equipment. That includes cameras, computers, servers and more. He says there are more than 60 offices and meeting rooms in Westfield that need to be ready to go with video equipment, whether it's TV screens, projectors or anything else used by the coaches and front office personnel.
» Dave Hammer, the Colts' head athletic trainer, has seen quite the evolution in camp medical needs since the team's first training camp in Indianapolis in 1984. "Now there's just so many more different things that you use," he says. "We have all the trunks that we have for road trips, and then all of our modalities, all of our supplies that we're going to use. All of the tape, the band-aids. There's a whole lot of stuff that's specialized rehabilitation equipment that we use — treadmills and things like that — so those are one item, but very big, bulky and all that kind of thing."
» Then you get an idea of why Grand Park is considered the best training camp headquarters in the entire National Football League. "Grand Park is attractive to us in a lot of ways, from the people of Westfield, the Grand Park staff, the volunteers," Brown said. "Our biggest benefit in training camp is we have an indoor field." Reich adds: "Just the proximity of everything, you know, where the training room is, where the weight room is, where the meeting rooms are. You just like to have everything central, keep guys together, stay focused, minimize time traveling and be able to be in the moment for whatever is next up on the agenda, and it's just really set up well for that."
» Then, of course, is another huge benefit of the Colts' camp at Grand Park: the ability of the team to connect to its fans. All team practices are free and open to the public (with a free general admission digital ticket acquired each day by clicking here), which allows the fans to feel a close part of the journey as the team begins its season. Ballard says: "There's nothing like being able to meet your favorite player, to watch Andrew (Luck) throw balls to T.Y. Hilton, to watch Quenton Nelson and Ryan Kelly practice one-on-one against (Denico) Autry and Justin Houston, to see 'em in a different setting that you do on gameday, I just think it's a way to connect that's different. And it's free to the public and they're able to come out each and every day, as much as they want."
» This episode wraps up with an inside look at training camp report day, as well as the first day of practice. "We've got 16 training camp practices," Reich said. "That's it. Sixteen. We've gotta wire in on these 16 practices. We can do anything for 16 days: you can get focused, eliminate all distraction. It's all football, 24/7. … You know, you get into the season and they have off days and they go home. But this is training camp. For 16 practices, this is eat, sleep and drink football, and begin to create something special that can help us along the journey."
https://www.colts.com/news/behind-the-colts-2019-training-camp-part-1-episode-recap